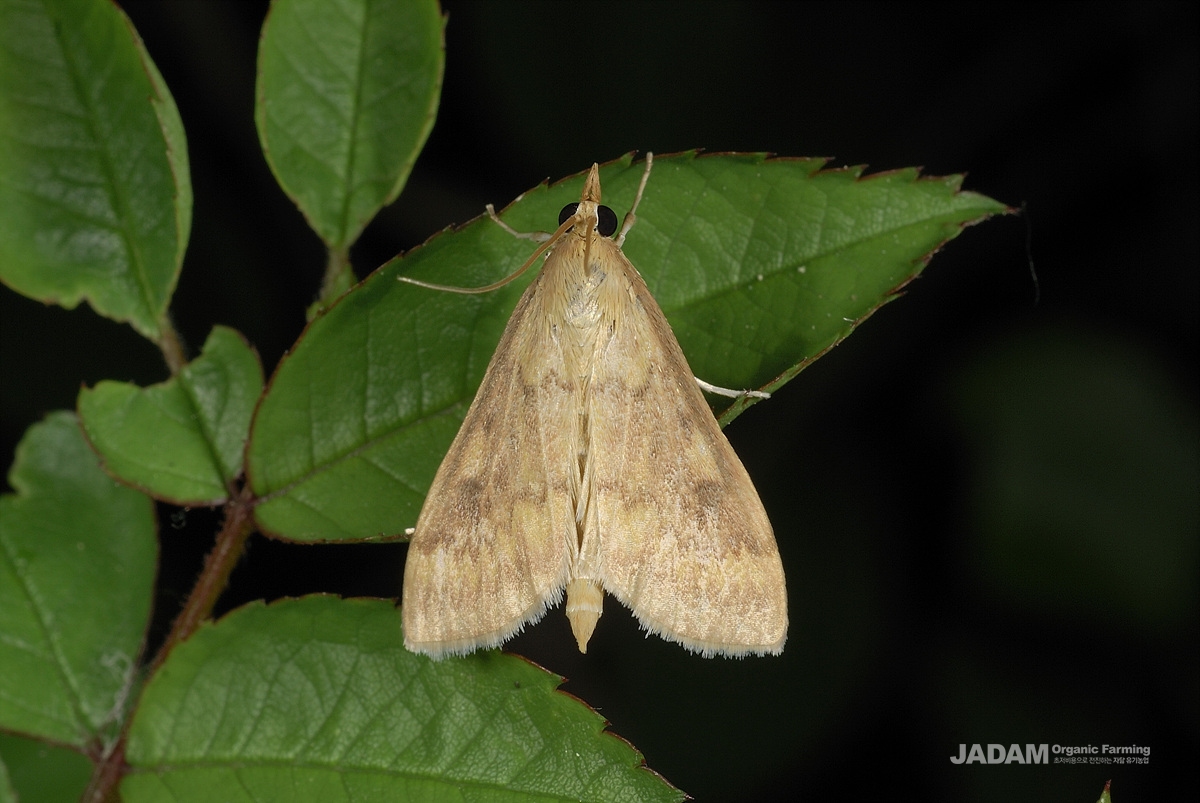 © 2019 JADAM All Rights Reserved
An Asian corn borer adult
Asian corn borer
Lepidoptera, Pyralidae
О Scientific name:
Ostrinia furnacalis
(Guenée)
О English name: Asian corn borer
О Size: The length of the wings are 23∼32 mm
О Host: Corn, ginger and more
О Distribution: Korea, Japan, Manchuria, China, Russia, India, Malesia, Australia, Java, Taiwan and more.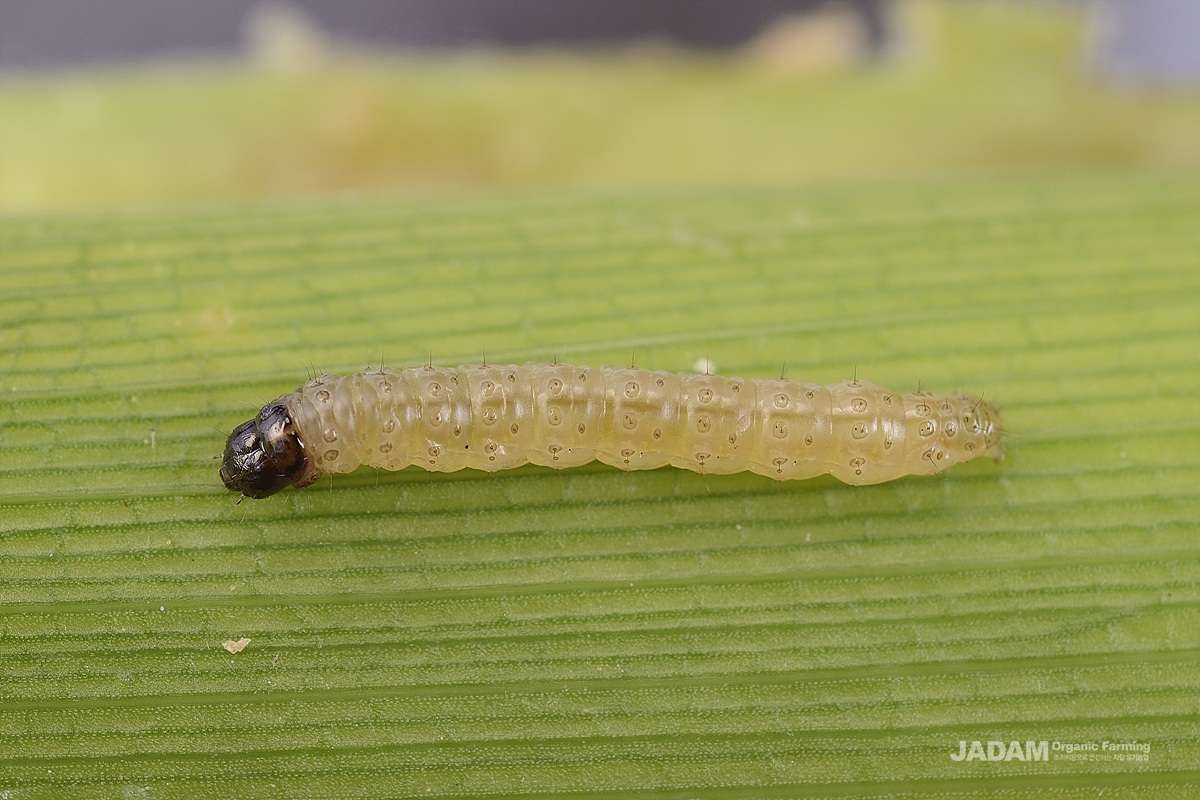 © 2019 JADAM All Rights Reserved
An Asian corn borer larva
The colour of an Asian corn borer larva is different depending on the colour of host plant and its sexes. However, generally the corn borer's head, chest, and fore wings are yellow-brown and its stomach is dark brown. Asian corn borer larvas are omnivores that it eats almost every farm products' leaves, stalks and fruits but it is well-known as a corn major pest.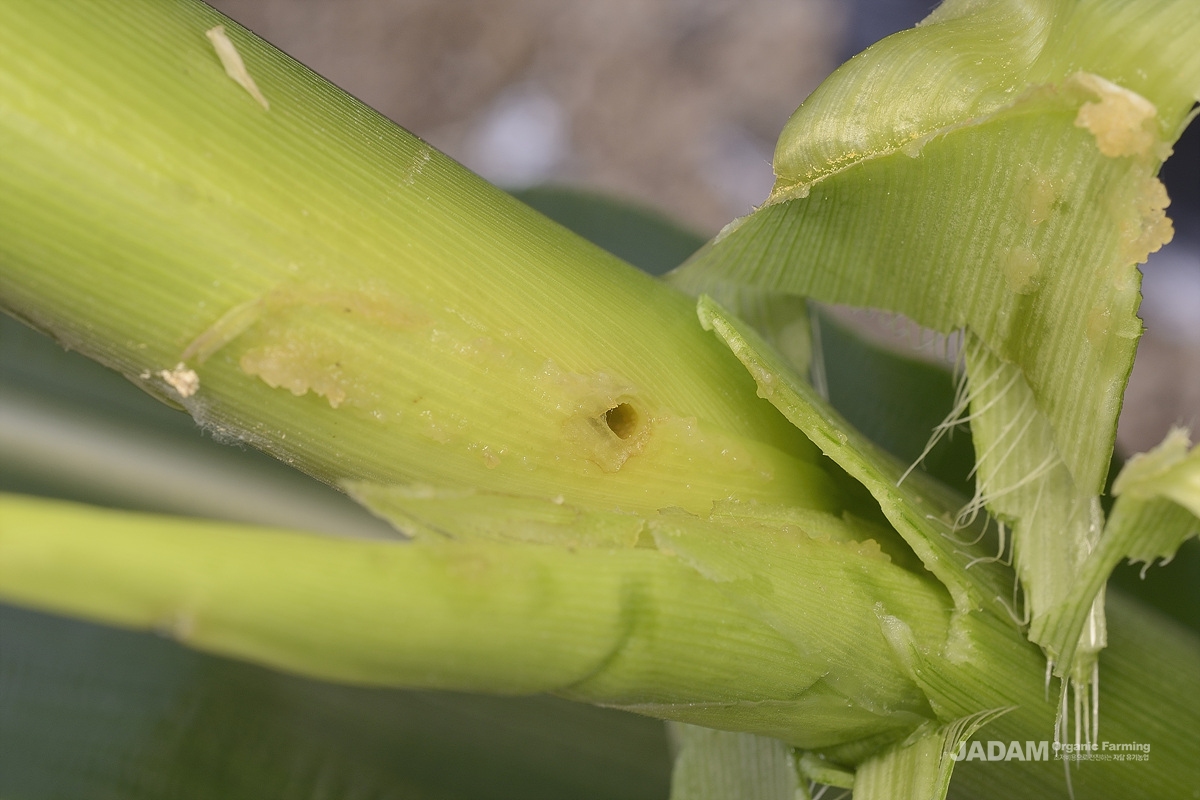 © 2019 JADAM All Rights Reserved
Damaged by Asian corn borers (young corn)
+There is a hole that Asian corn borers excrete.
After Asian corn borer hatches out, it starts to eat the soft part of a leaf (Mesophyll) from behind of the leaf. It digs into a stalk or a seed and eats from inside. Moreover, it releases its excreta from the hole. The insect's damaging character is that the 1st instar of the nymph eats the mesophyll from behind of a leaf and when it becomes the 2nd and 3rd instar nymph, it digs into a stalk and eats from inside. If the damage is serious, the damaged stalk will break and the upper part withers. The 2nd instar nymph generally attacks the seeds. You can find more than 10 Asian corn borers from an ear of corn.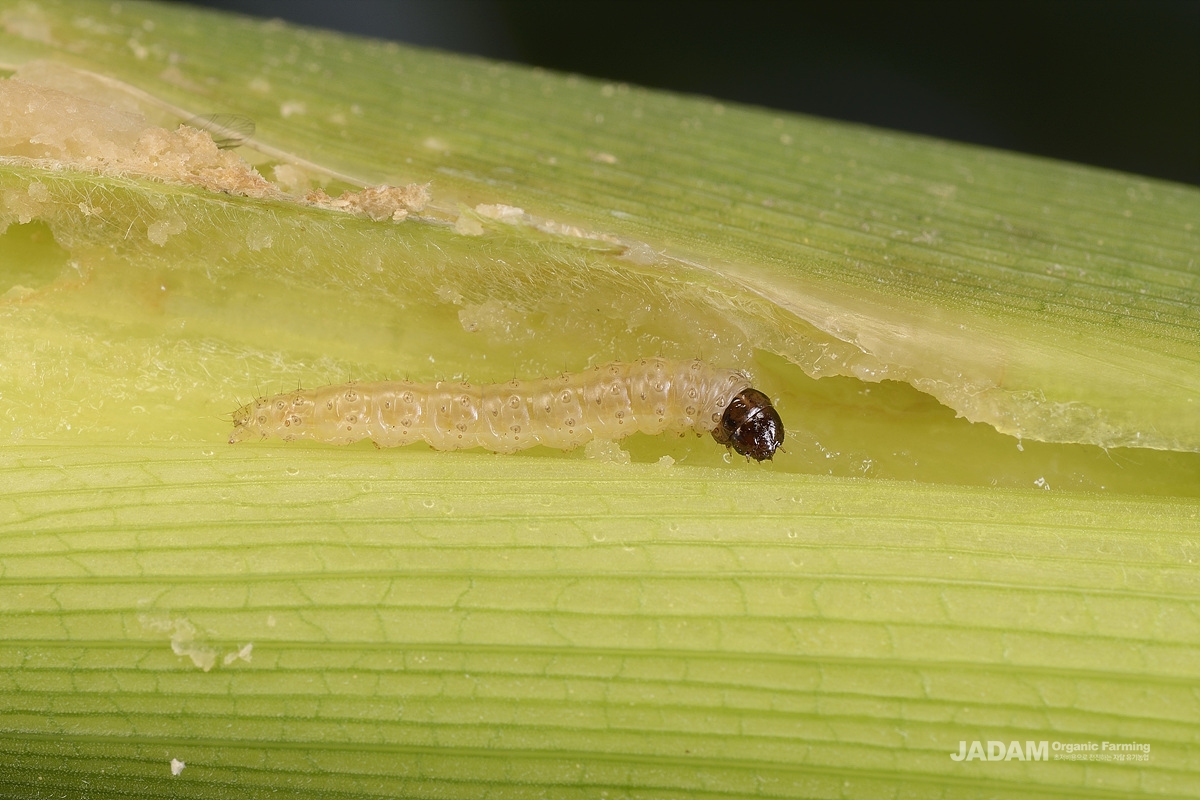 © 2019 JADAM All Rights Reserved
An Asian corn borer larva
Asian corn borer appears 2 to 3 times a year and stays the coldest season inside of a stalk as a nymph. The 1st Asian corn borer adult appears from early to middle of June. The 2nd one appears during the middle to late July and the 3rd one appears during the middle to late August. [Text Source from Doosan Encyclpedia]

Translated by Sunyoung Cho
Other articles by Deogkee ParkInterviewed on : 2019.03.08 15:43
<© 2019 Jadam All Rights Reserved>
#Lepidoptera
#Pyralidae
#Ostrinia
#corn
#farm product pest