Cotton bollworm damages every kind of crops, vegetables, fruit vegetables, gramineae crops, leguminosae plants, and flowers. This species often damages the fruits of chili and tomato directly. There is a similar species, oriental tobacco budworm. You can distinguish it with a black pattern on hind wings. If the black pattern is bigger, you can say it is cotton bollworm. Moreover, it is very difficult to control with chemical, microbial, and any other control because it drills a hole and stays inside of fruits. Therefore, it is the best to spray pesticide before it hatches out or prevent cotton bollworm adult's appearance with traps (pheromone, light trap and more).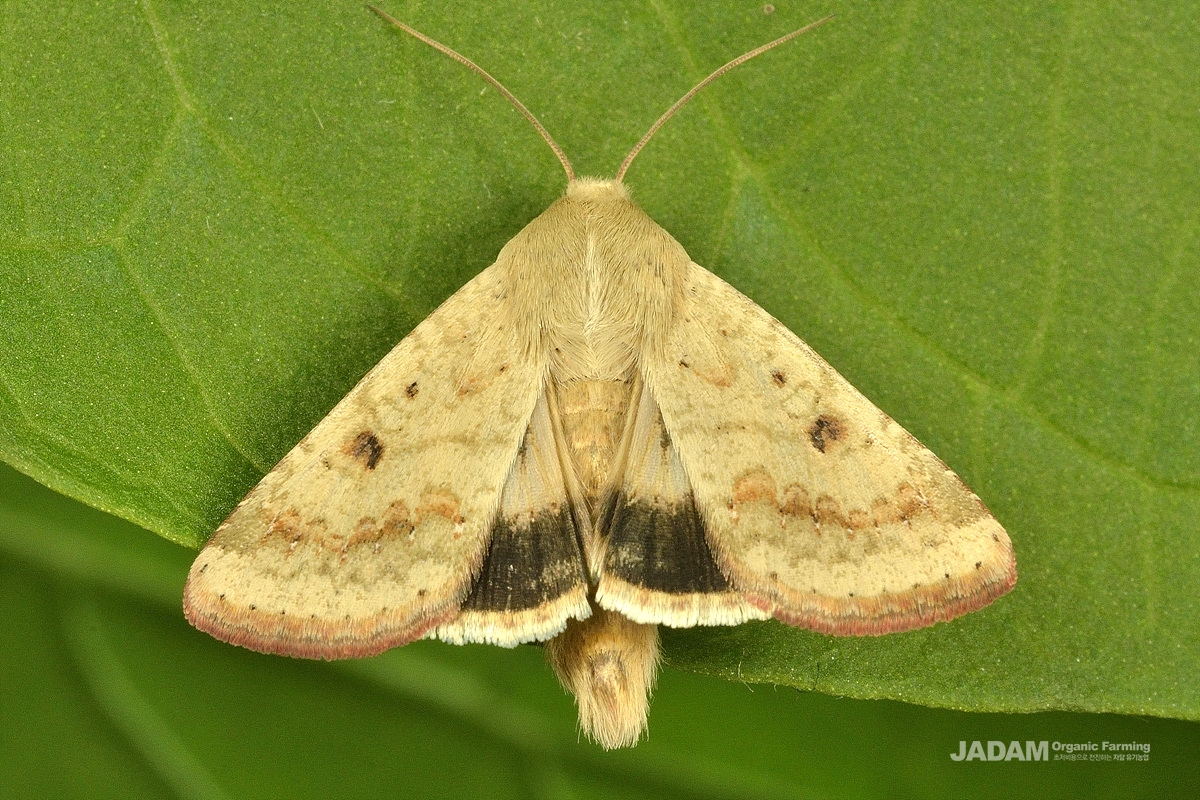 © 2016 Jadam All Rights Reserved
Cotton bollworm adult
Cotton bollworm
Lepidoptera Noctuidae
О Scientific name :
Helicoverpa armigera
(Hubner)
О English name : cotton bollworm
О Size : the length of adult's wings are 35mm
О Host : chili, eggplant, tomato, tangerine, Barberton daisy, calendula, perilla, peanut, Chinese cabbage, lettuce, baby's breath, cucumber, carnation, bean, millet and more.
О Distribution : Korea, Japan, Taiwan, China, the far east part of Russia, Pakistan, Nepal, the north part of India, and more.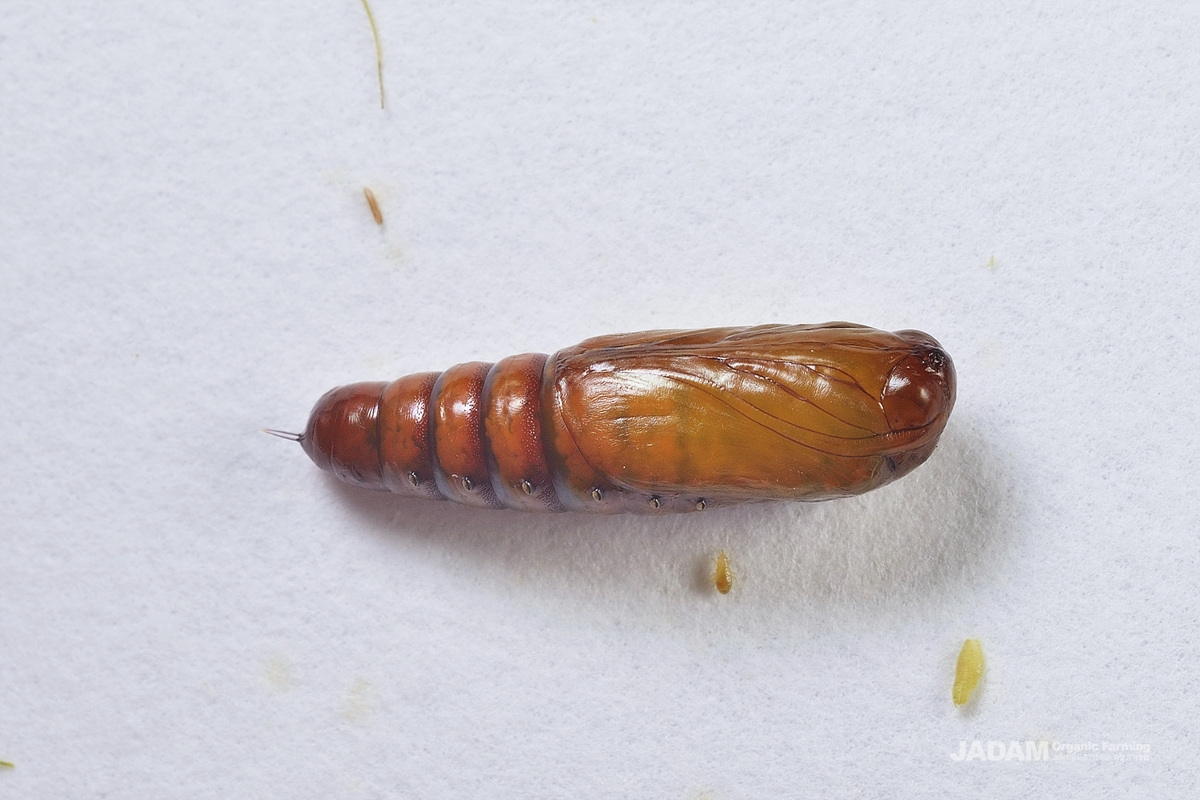 © 2016 Jadam All Rights Reserved
cotton bollworm larva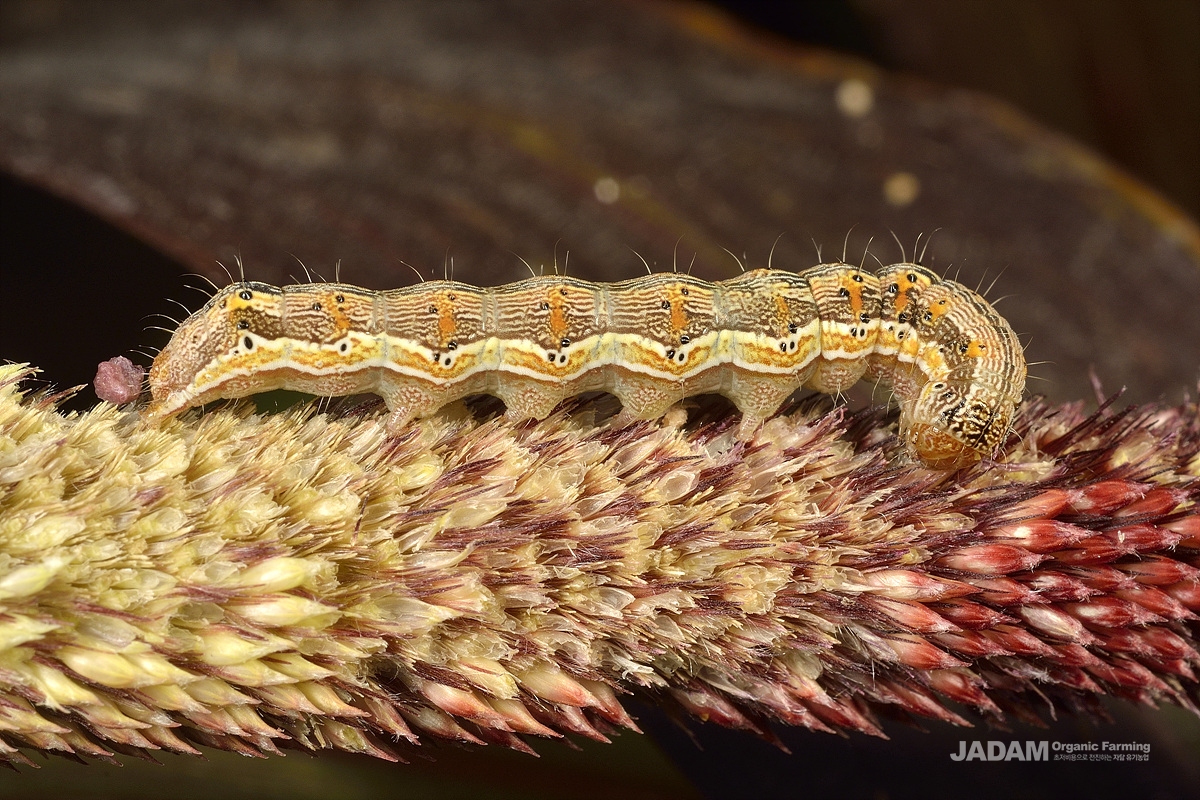 © 2016 Jadam All Rights Reserved
cotton bollworm larva
The cotton bollworm adult's spread wings are less than 35mm and its feelers are whippy. Its hind wings are black. The adult looks similar with oriental tobacco budworm but its forewings have clear pattern looks like kidney and ring. On the other hand, cotton bollworm does not have ring pattern or faintly has it. It is discriminable because there are seven white patterns between brown horizontal lines.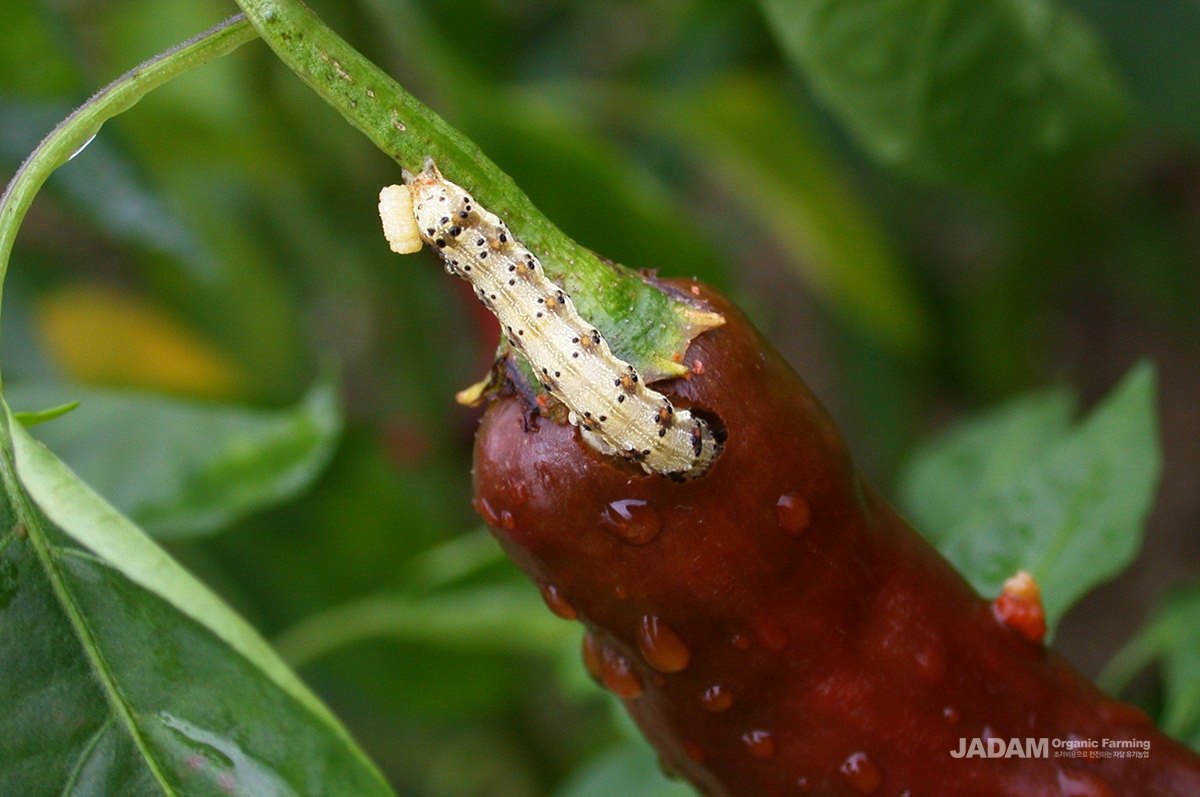 © 2016 Jadam All Rights Reserved
cotton bollworm larva (the damaged chili)
The larva has white hair around its head and there is dark color behind its head and on the fourth joint.
Their number of households is 2 to 3 a year. They stay under the ground as a pupa. It comes out during May to June and damage crops until October (annual occurrence in the greenhouse). Moreover, they spawn one egg on a leaf sporadically. However, sometimes they spawn 5 to 10 together. They can spawn less than 500. From scattering period to the incubation period is around 3 to 4 days at room temperature. It takes 17 to 20 days until it hatches out. Moreover, the cotton bollworm adult's lifespan is 10 to 12 days.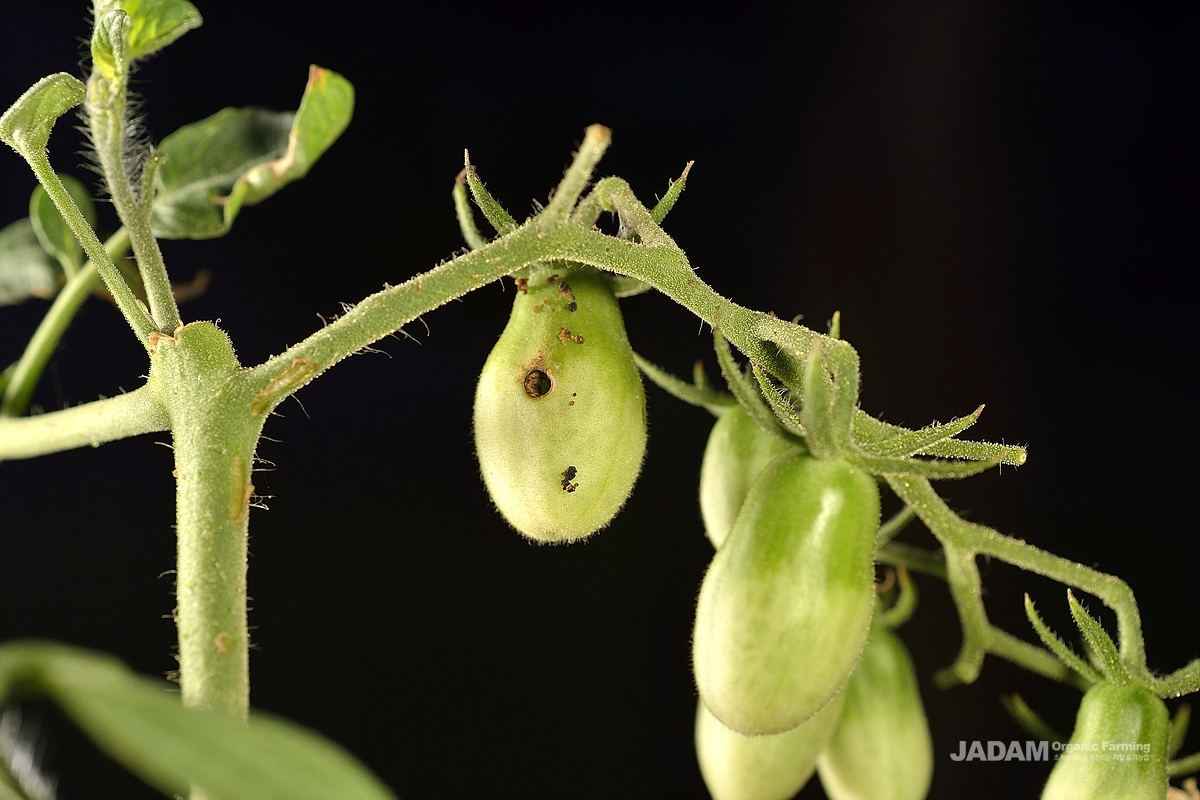 © 2016 Jadam All Rights Reserved
damaged tomato by cotton bollworm

Translated by Sunyoung Cho
Other articles by Deogkee ParkInterviewed on : 2016.10.01 01:45
<© 2016 Jadam All Rights Reserved>
#Lepidoptera
#Noctuidae
#vegetable pest
#Gramineous pest
#
#Helicoverpa armigera