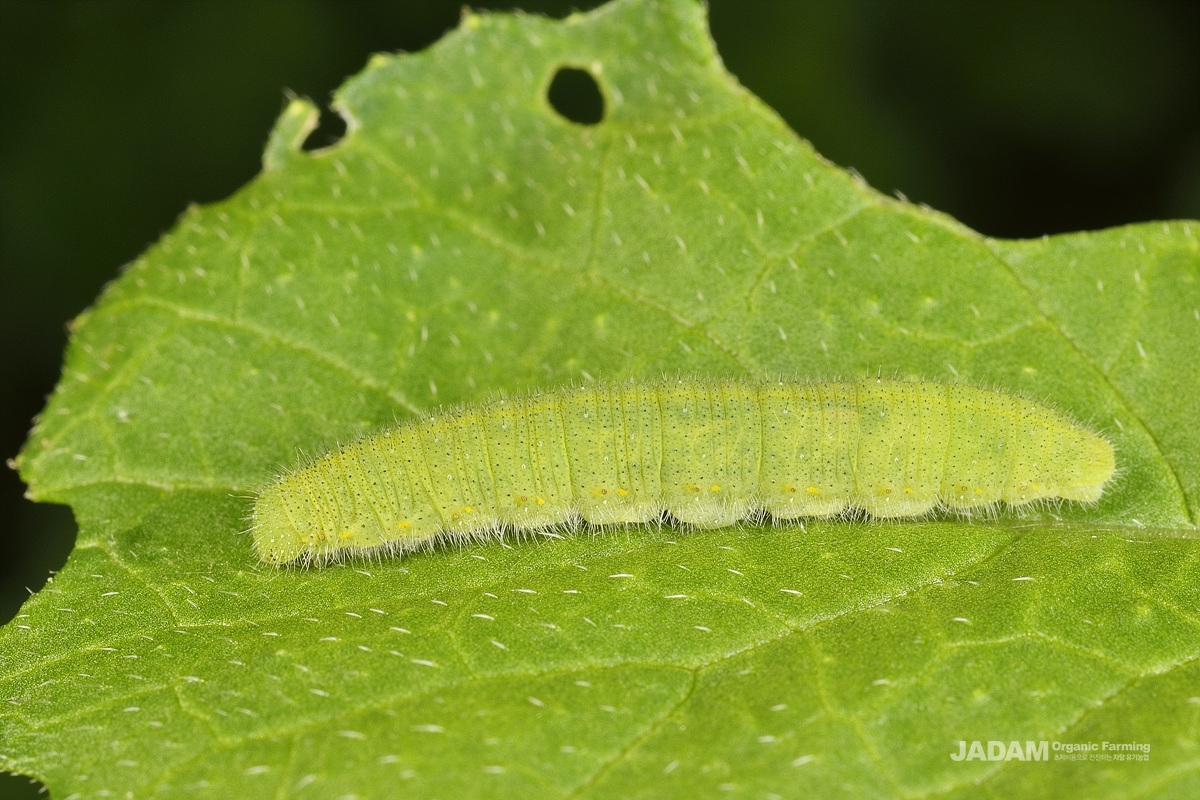 © 2016 Jadam All Rights Reserved
common cabbage butterfly larva
Common cabbage butterfly
Lepidoptera Pieridae
О Scientific name: Pieris rapae (Linnaeus)
О English name : common cabbage butterfly
О Size : Body length is 20mm, and wingspan is 50~60mm
О Hosts : White radish, Chinese cabbage, Kale, Variable leaf yellow cress, and crucifer
О Distribution : Korea, Japan, China, Taiwan, Europe, North America, New Zealand and more.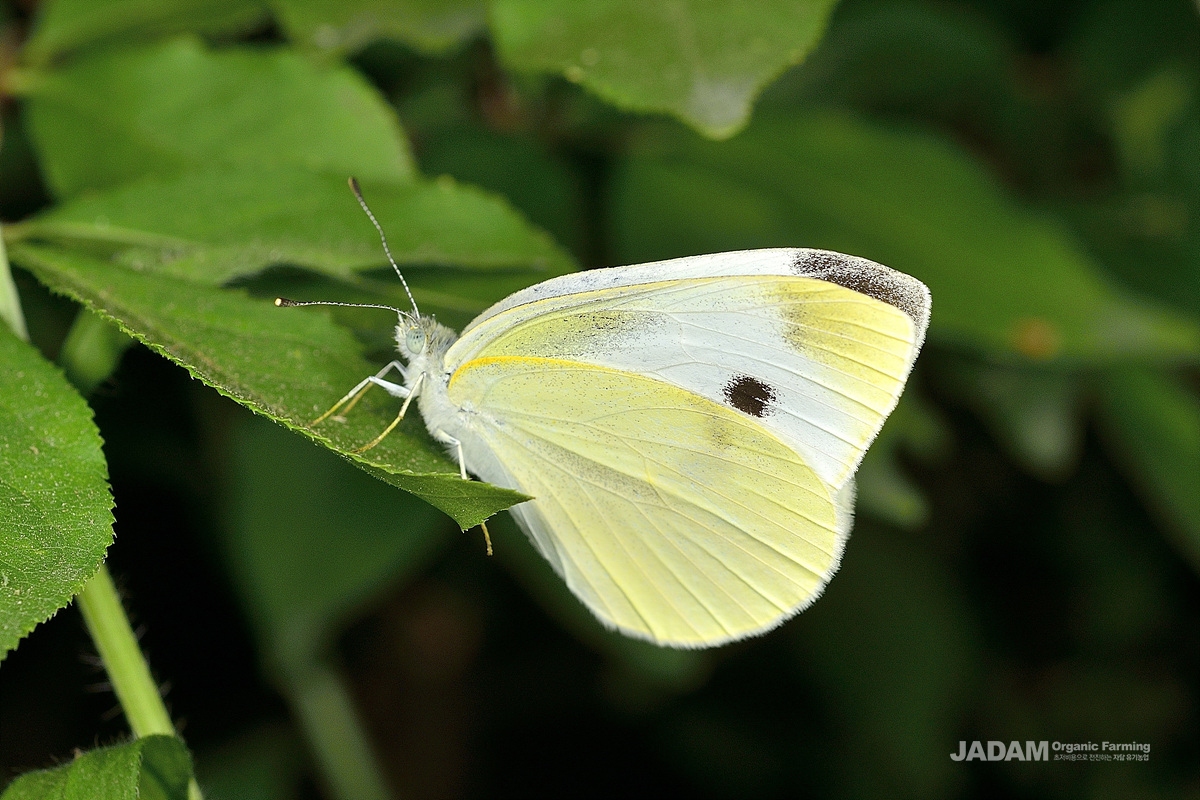 © 2016 Jadam All Rights Reserved
common cabbage butterfly adult
Female common cabbage butterfly is white and its body length is 20 mm. If they spread their wings, its length is around 50~60 mm.
There are two black dots on front wings and one dot on backside wings. Not only the male's body is thinner than female's body, the size of dot is also smaller and lighter than female's.
Spring common cabbage butterfly is brighter and bigger than summer one. The all grown larva is 30 mm and green. Its body is covered with fuzz.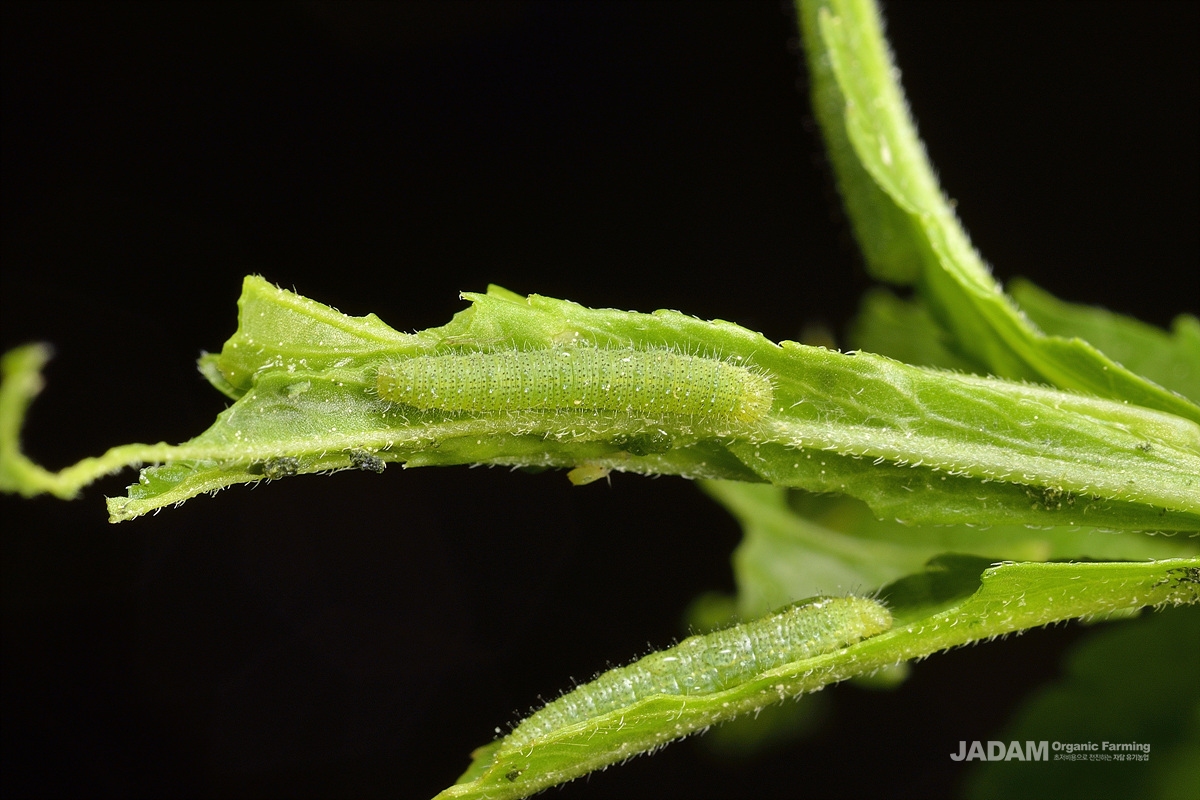 © 2016 Jadam All Rights Reserved
young common cabbage butterfly larva
† this photo was taken from variable leaf yellow cress
There might be serious damage to young cabbages. However, common cabbage butterflies do not appear occasionally. It appears 4 to 5 times a year and pass over the coldest season as pupa on plant body, wall and eaves. When the larva becomes an adult in early spring, it starts to spawn on the backside of leafs of white radish, cabbage, and wild curcifer. Common cabbage butterfly generates repeatedly during fall on white radish and Chinese cabbage. Therefore, you can see all the stages of insect from spring to fall. The damage is worse in spring and less in hot summer and raining season. However, it will again start to harm crops from fall. Common cabbage butterfly lays eggs one by one and the adult is active during the day.
© 2016 Jadam All Rights Reserved
damaged white radish by common cabbage butterfly larva
Translated by Sunyoung Cho
Other articles by Teokgi ParkInterviewed on : 2016.08.01 00:54
<© 2016 Jadam All Rights Reserved>
#Lepidoptera
#green vegetable pest
#vegetable pest
#Pieridae