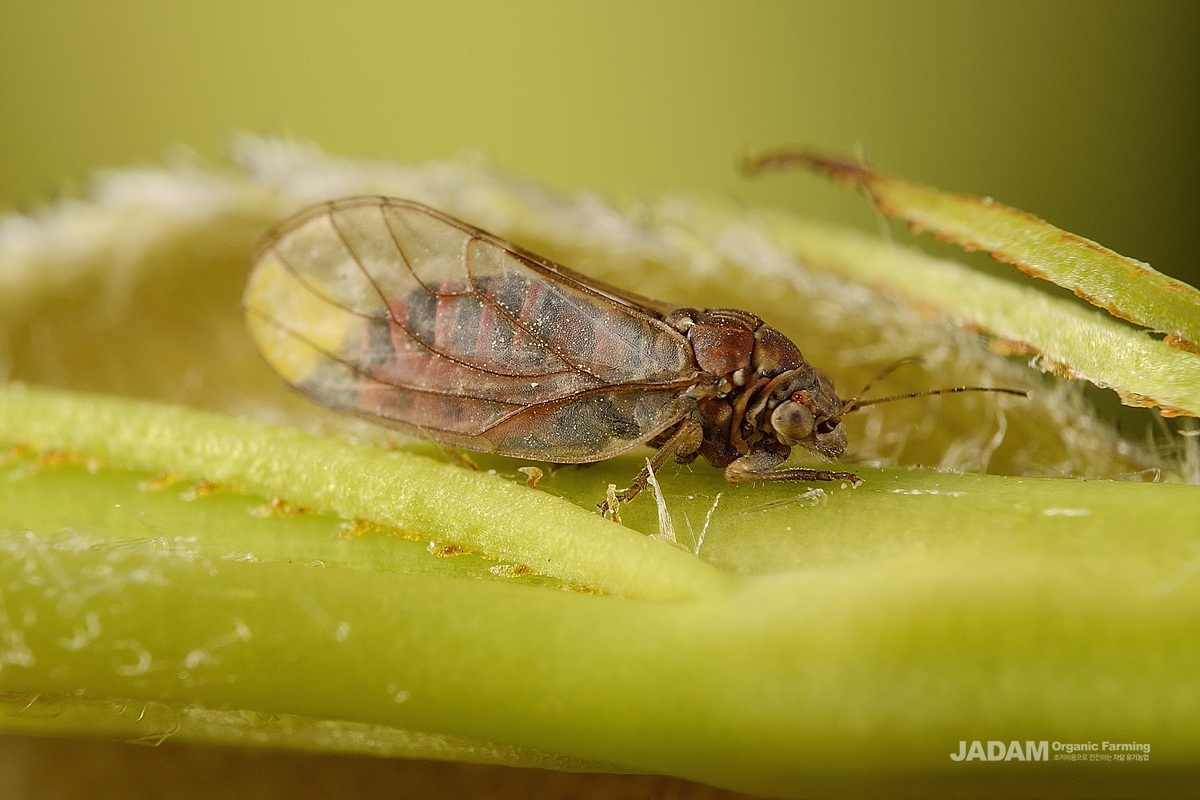 © 2019 JADAM All Rights Reserved
An adult pear sucker after wintering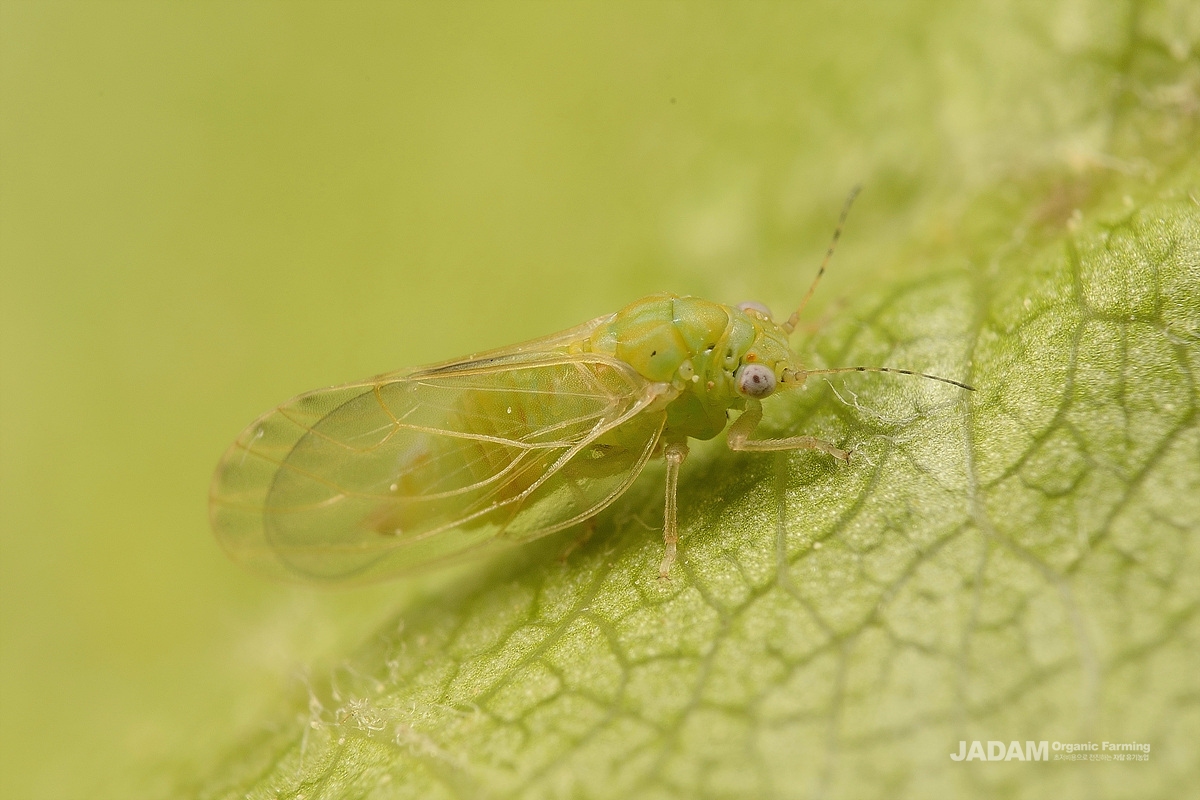 © 2019 JADAM All Rights Reserved
An adult pear sucker in summer
​​
Pear sucker
Homoptera Chermidae
О Scientific name:
Psylla pyricola
Foerster
О English name: Pear sucker
О Size: The body length of a pear sucker is 2.5 mm
О Host: Pear tree, apple tree
О Distribution: Korea, Japan, Taiwan, Europe, North America and more.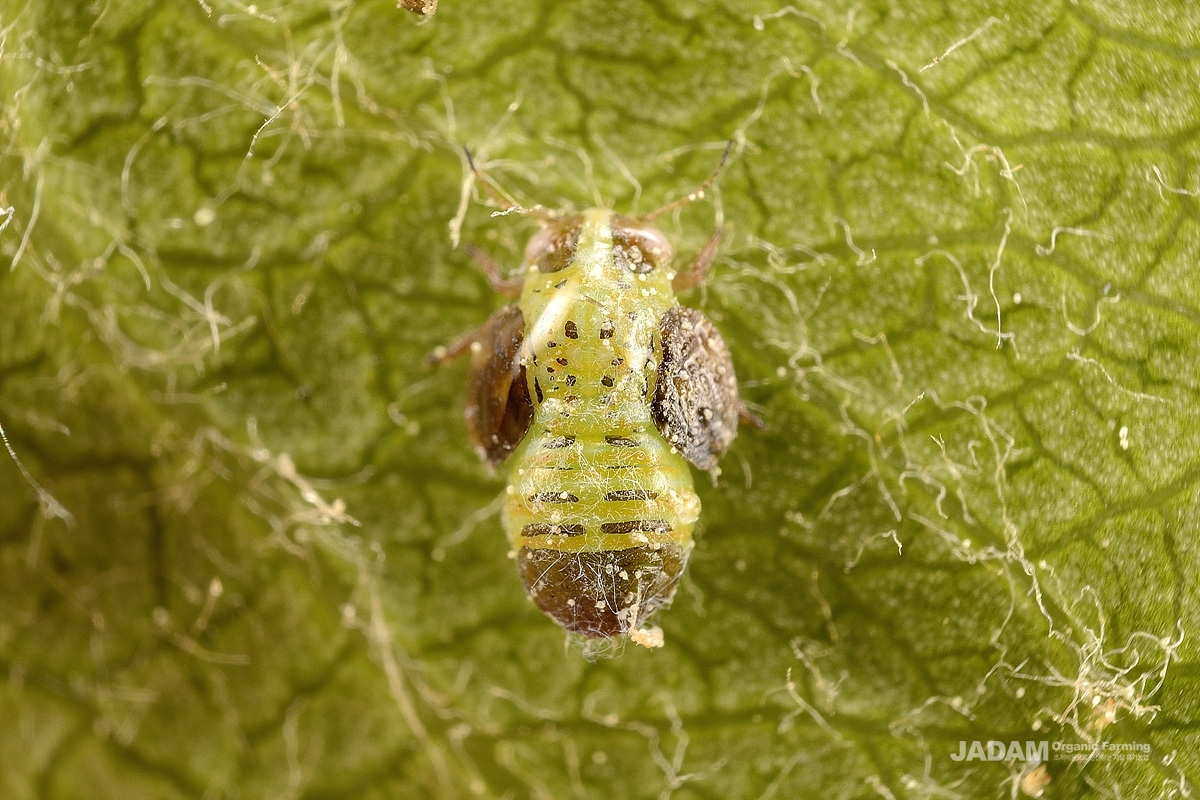 © 2019 JADAM All Rights Reserved
Late-instar of a pear sucker nymph
An early-instar of a pear sucker is yellow but it slowly becomes green when it grows up. The fifth instar of a pear sucker has red-brown wings. Its eggs are oval and yellow. An adult pear sucker in summer and a wintering adult pear sucker are different. The pear sucker in summer looks like a leafhopper that it is green with light red-brown wings. The pear sucker in winter is dark brown and bigger than pear suckers in summer. Moreover, it has a clear vein.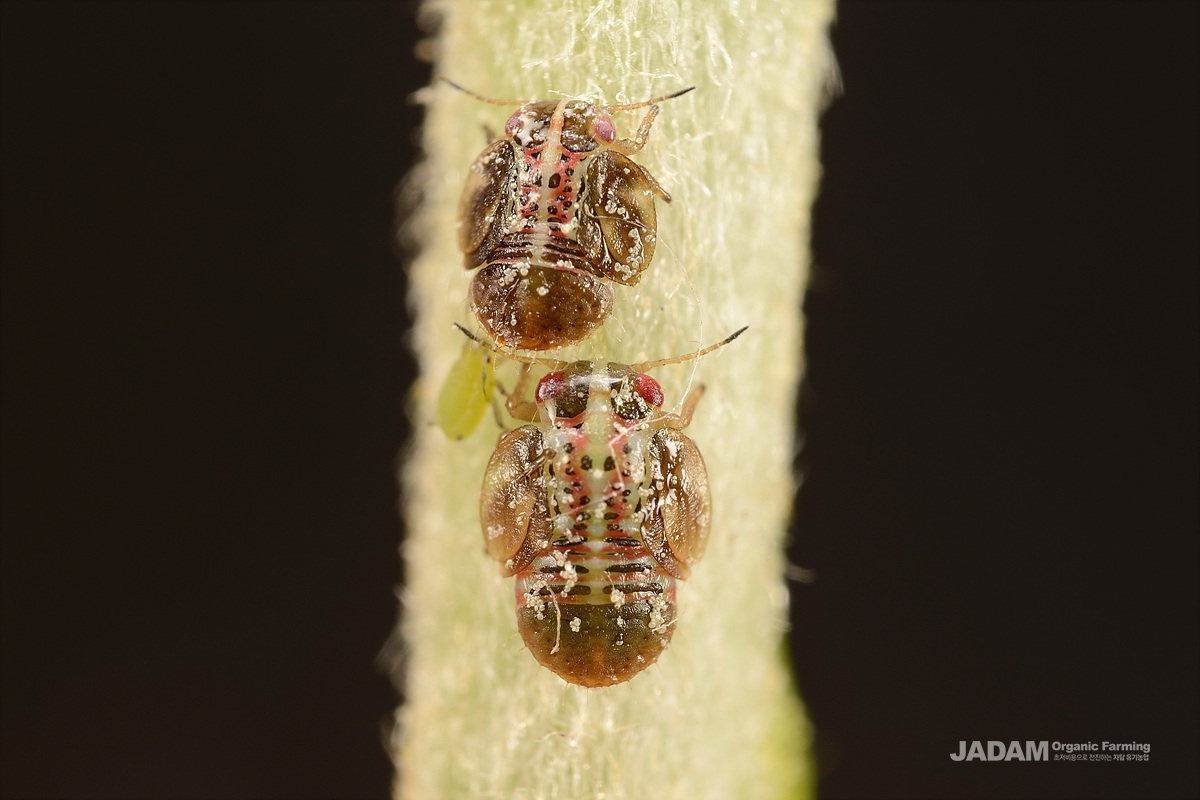 © 2019 JADAM All Rights Reserved
Pear sucker nymphs 4
There are two types of species in Psyllidae which occurs on pear trees; Psylla pyricola and Psylla pyrisuga. The Psylla pyricola appears on the pear tree in spring and move to grass. Therefore, it is not the problem but Psylla pyricola (pear sucker) is. The pear sucker appears five times a year. The first generation appears in the middle and late of May, the second generation appears in the late of June and slowly the number of pear suckers decrease from July to August when the temperature goes up.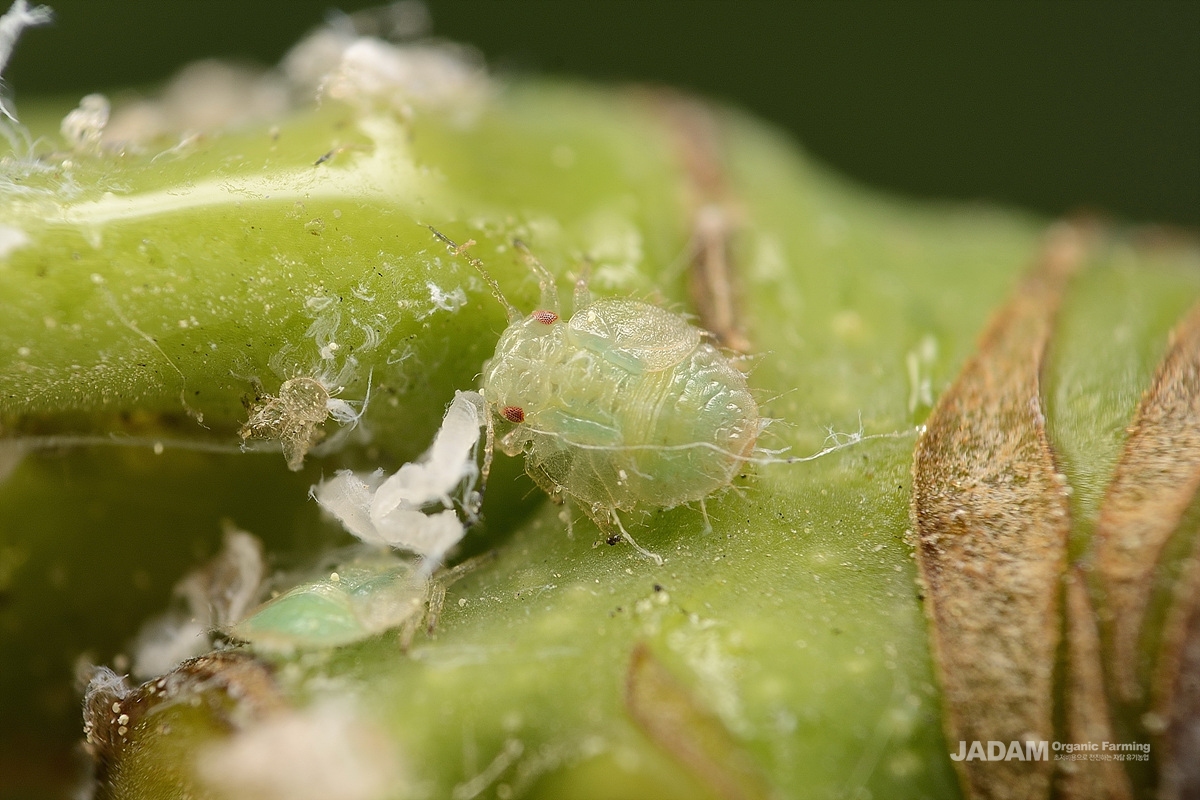 © 2019 JADAM All Rights Reserved
Pear sucker nymph 3
The third generation appears from the mid-July to late July. The fourth generation appears late August. When the day time decrease in fall, the fifth generation which can stay the coldest season starts to appear late September. It stays under the bark of a tree for wintering. When the highest temperature in the mid to late February reaches 7 to 10
°C

,

the wintering adult pear sucker moves to water fruiting spur

and starts to breed. Around mid-March, it starts to spawn. Before the pear blossom, the eggs hatch and it parasitic on the fruit stalk or leaves.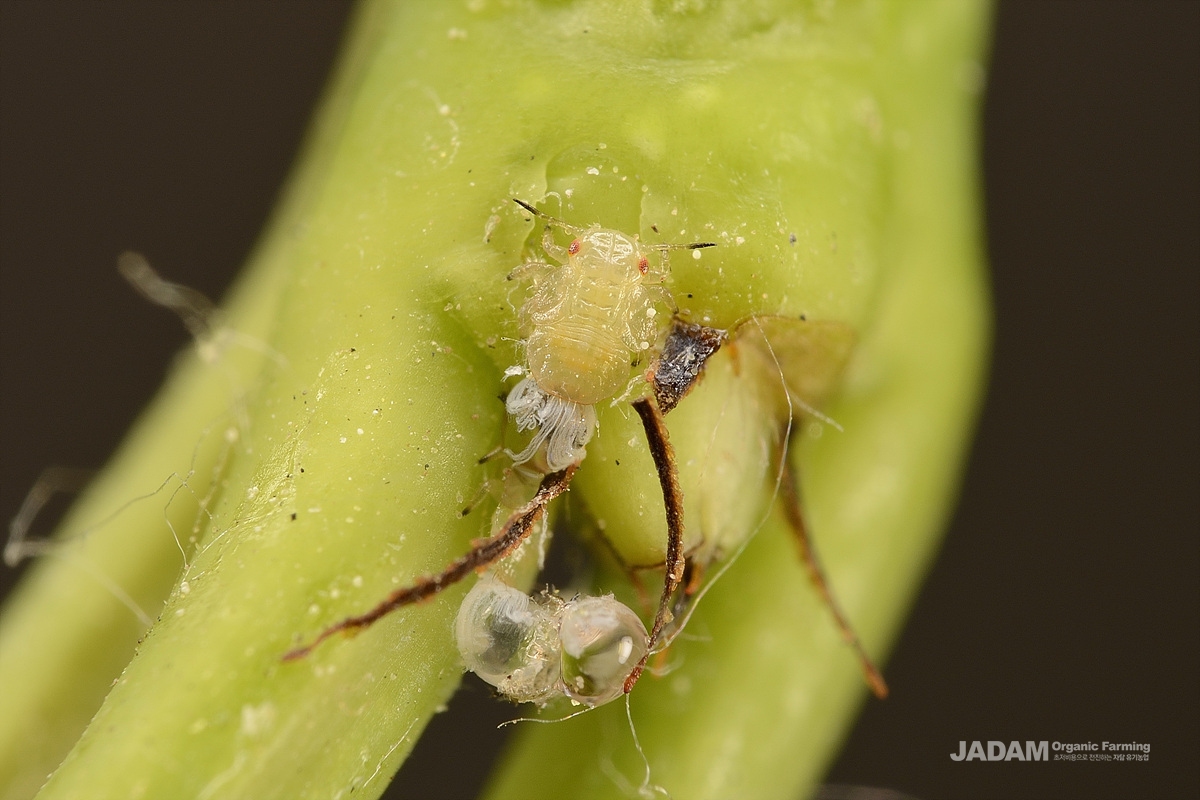 © 2019 JADAM All Rights Reserved
Pear sucker nymph 2
Generally, the adult and nymph pear suckers damage leaves, break into the pear bag and suck the fruit surface. You might misunderstand damaged by pear sucker as damaged by comstock mealybug because pear suckers secrete white wax. Because pear suckers produce excretion while eating, it causes sooty mold. Therefore, if the plant got seriously damaged by pear suckers, the color of leaves become black. The value of the product and the storage capacity will decrease. [Text source: National Agricultural Disease Control System].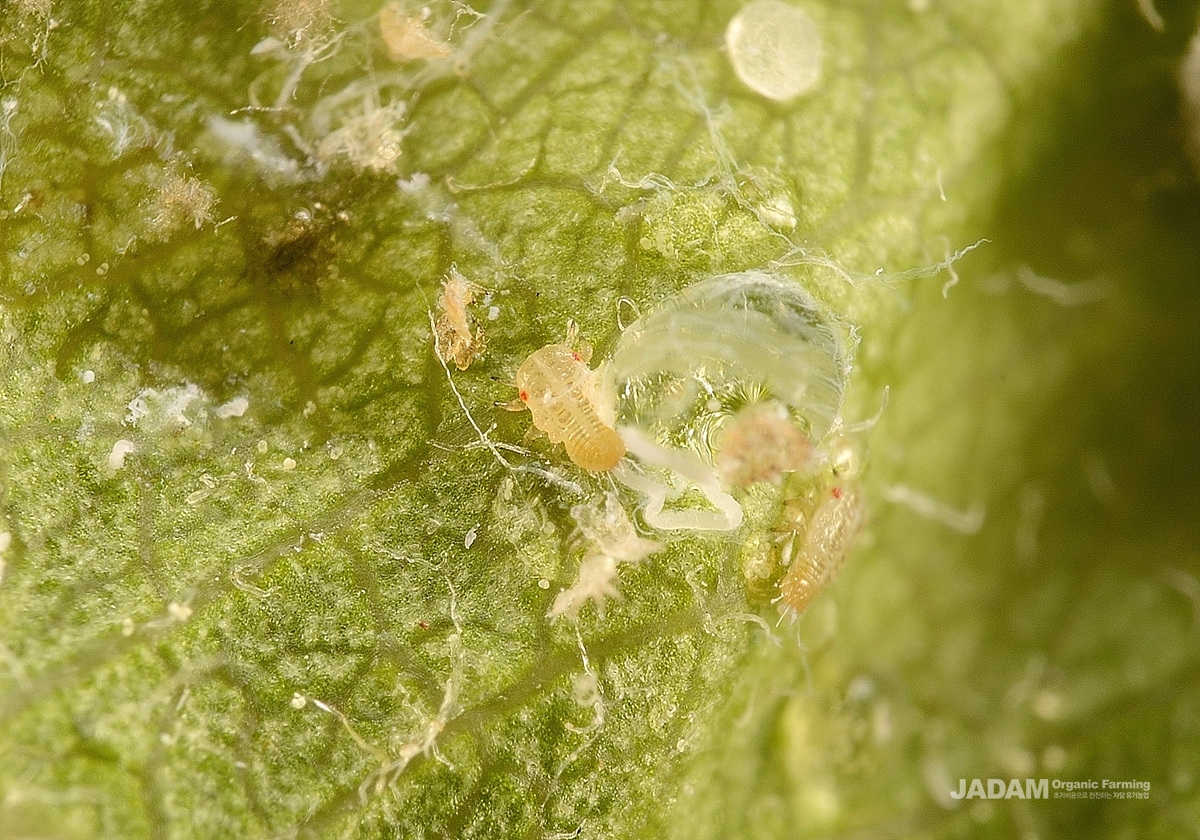 ​

© 2019 JADAM All Rights Reserved


Pear sucker nymph 1
​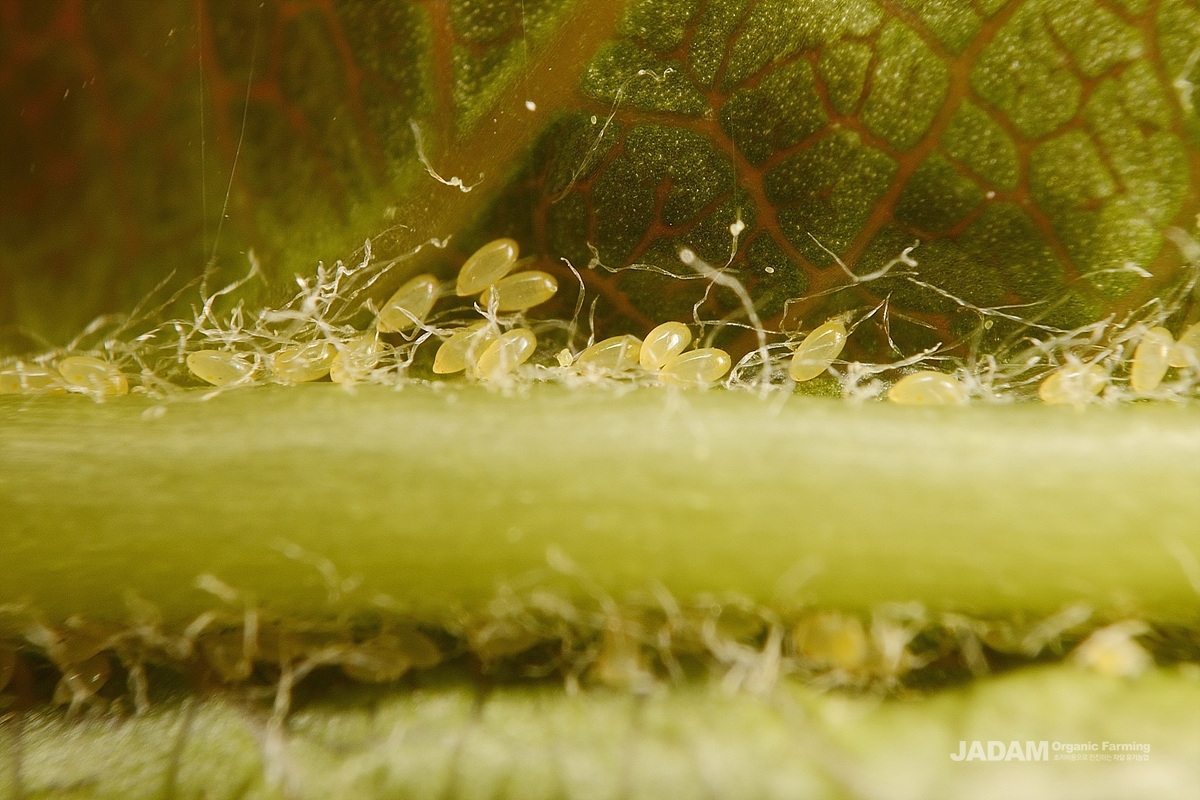 © 2019 JADAM All Rights Reserved
Pear sucker eggs (behind of a pear leaf)
​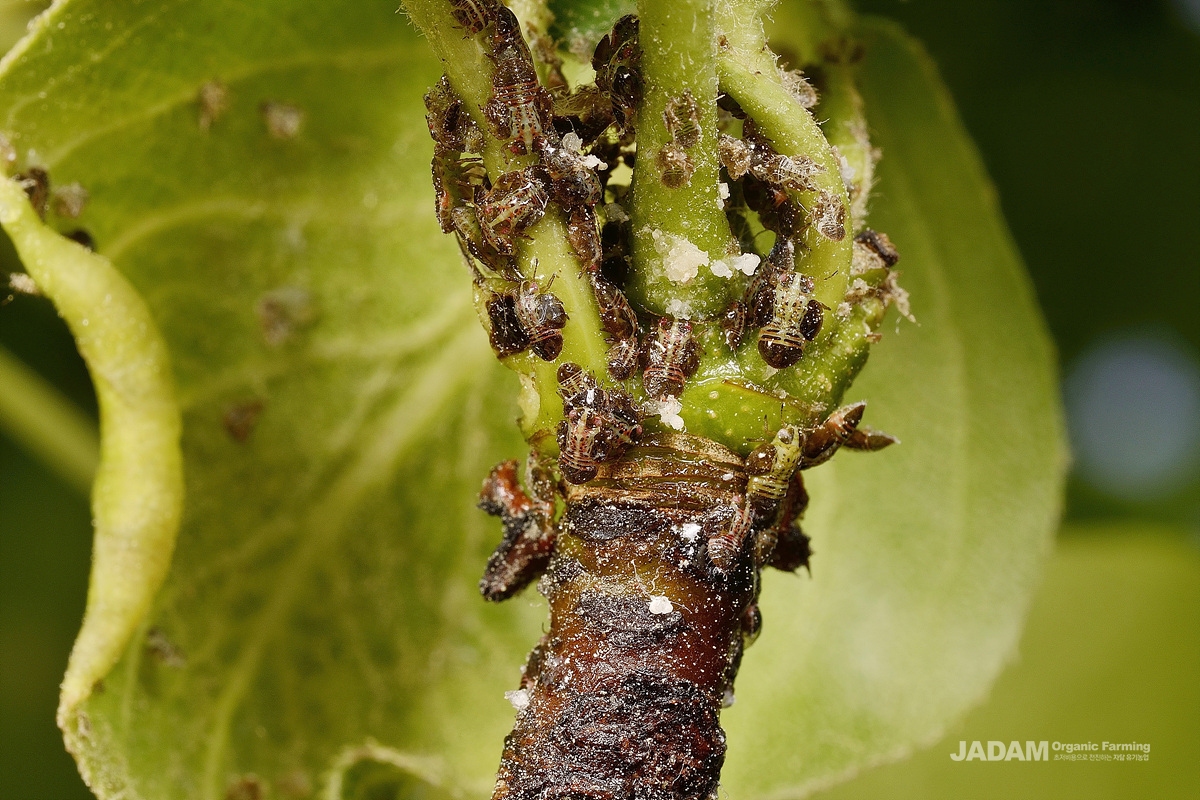 © 2019 JADAM All Rights Reserved
Damaged branch by pear suckers (Peartree)
​
Translated by Sunyoung Cho
Other articles by Deogkee ParkInterviewed on : 2019.01.18 14:27
<© 2019 Jadam All Rights Reserved>
#homoptera
#chermidae
#Psylla
#fruit tree pest
#turfgrass insect