Actinidia argute ( Darae in Korean) is a
perennial
vine
native to Japan,
Korea
, Northern China, and
Russian Far East
. It produces a small fruit resembling the
kiwifruit
. And height is about 7 meters. The fruit are referred to as hardy kiwifruit, kiwi berry, arctic kiwi, baby kiwi, or cocktail kiwi, and are edible, berry- or grape-sized fruit similar to
kiwifruit
in taste and appearance, but are green, brownish, or purple with smooth skin, sometimes with a red blush. Often sweeter than the kiwifruit, hardy kiwifruit can be eaten whole and do not need to be peeled. Thin-walled, its exterior is smooth and leathery.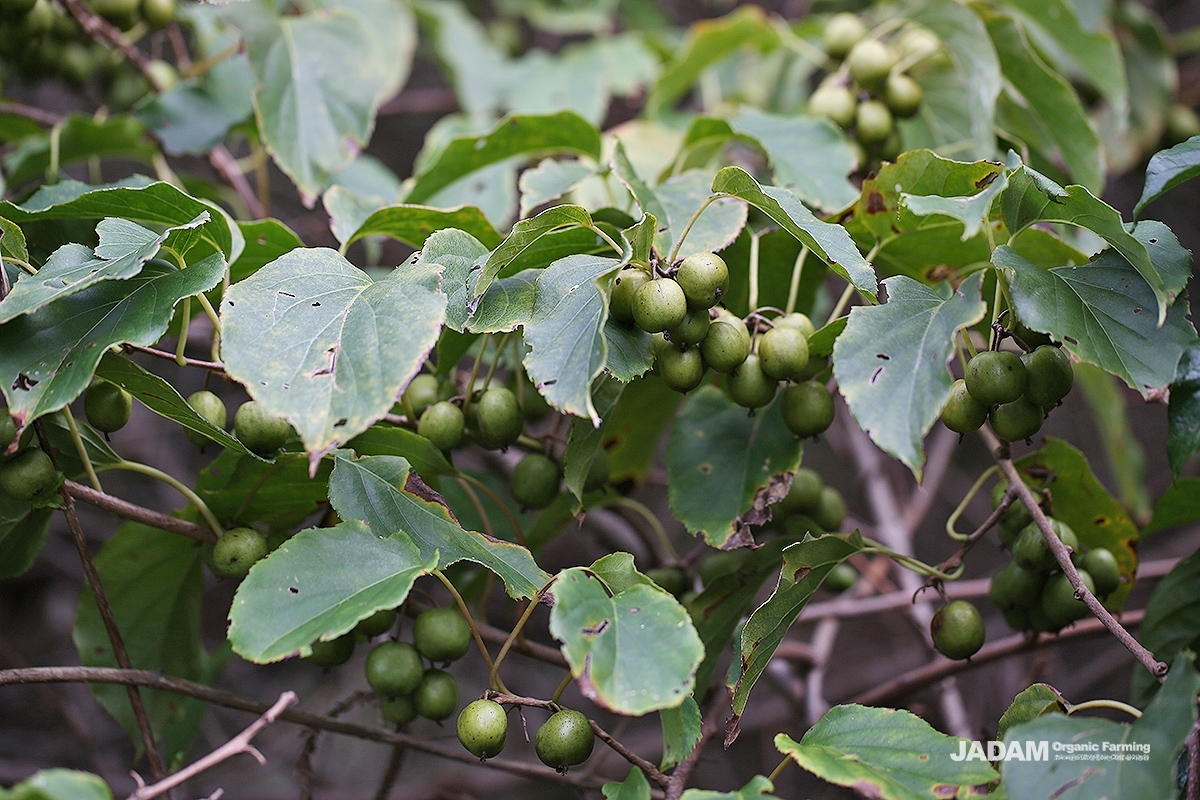 © 2018 JADAM All Rights Reserved
It is dioecious and white color flower with 5 petals bloom which during May under leaf petiole. Male flower has stamen and the anther color is dark purple. On the other hand female flower has one pistil which splits at the tip of pistil. The fruits get ripe around October in yellowish green color.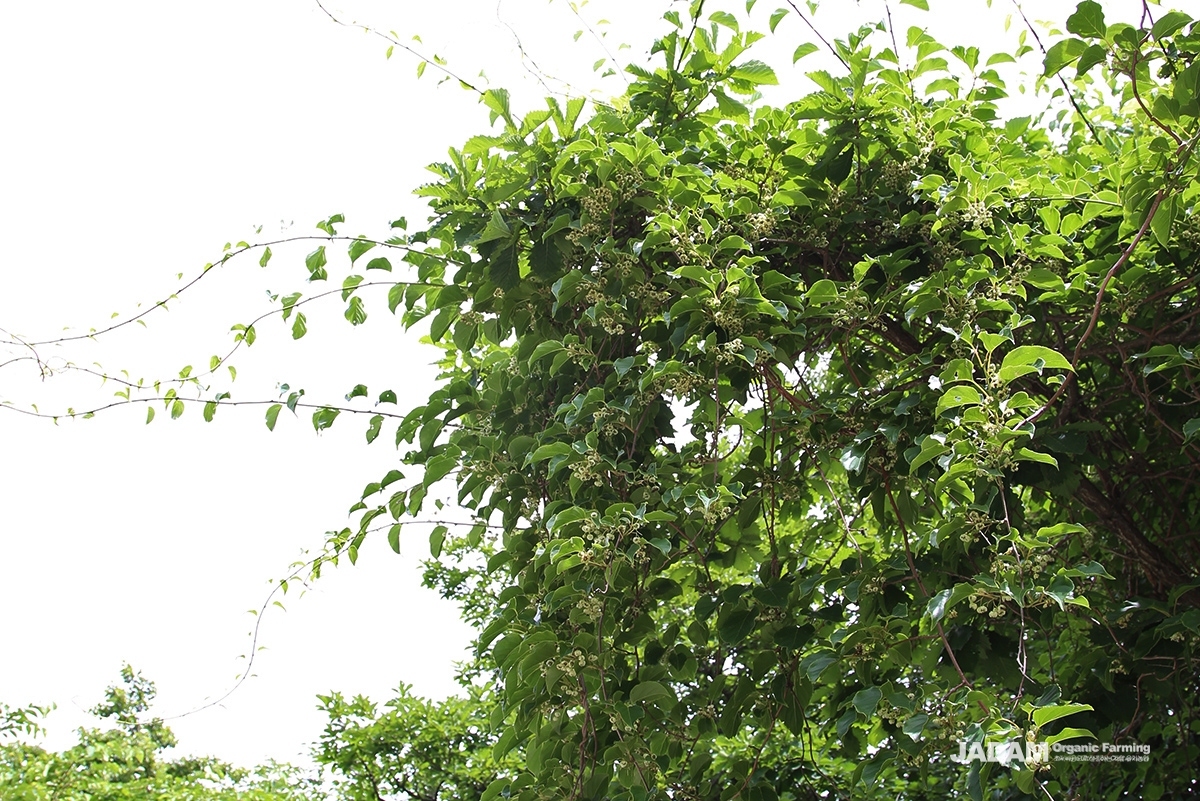 © 2018 JADAM All Rights Reserved
In early spring you can extract the fluid of the plant from its branch. with smaller branch it is usually used for vegetable side dish. Plant has bit of pungent taste so it is recommended to store it in cold water before having it to reduce its pungent taste.
The small fruit which is also known as hardy kiwi becomes softer when it's kept in room temperature so you can have it raw or make juice out of it or can be used as sauce for barbeque. Also it can become a jam. For people who loves drinking? You can add sugar to make an enzyme.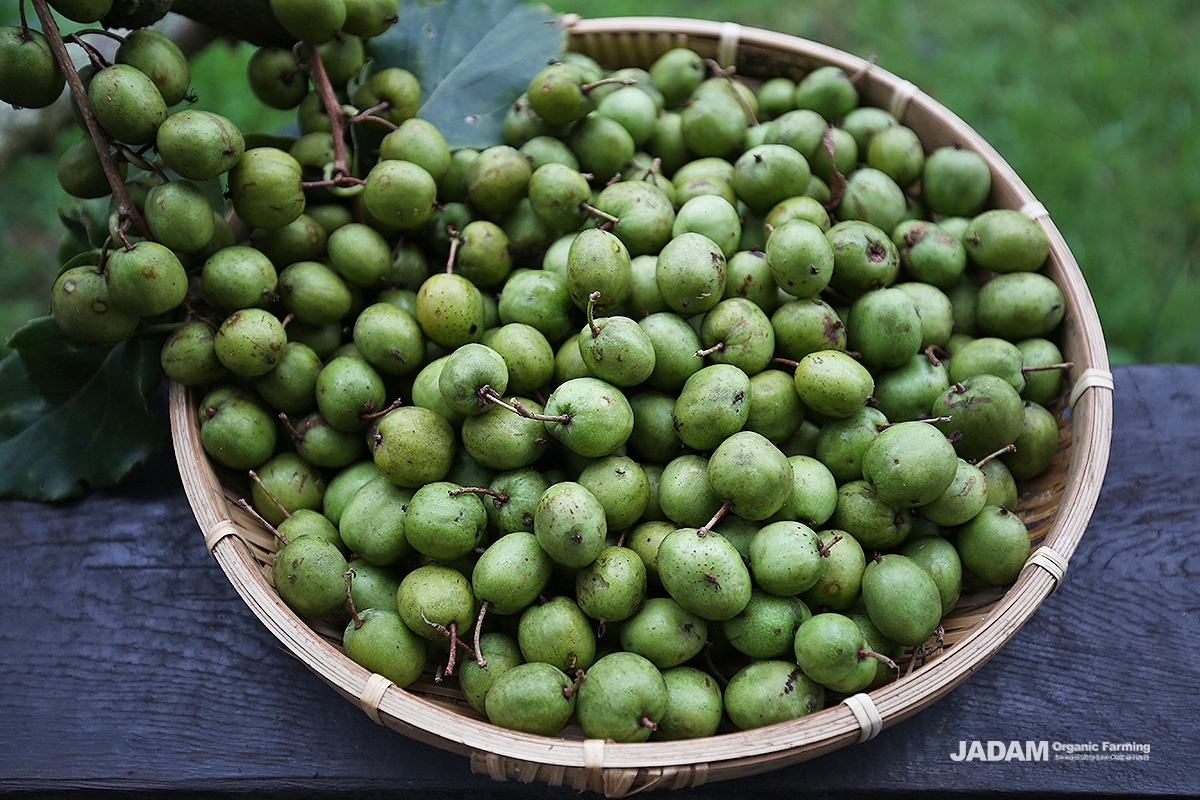 © 2018 JADAM All Rights Reserved
The fruit contains sugar, organic acid, minerals,carotene and lot of vitamin C.
The leaves and branch contains arginine, lysine, leucine, alanine, asparagine apart from saponin and flavonoid. Arginine is the essential amino acid for growth of children or an animal.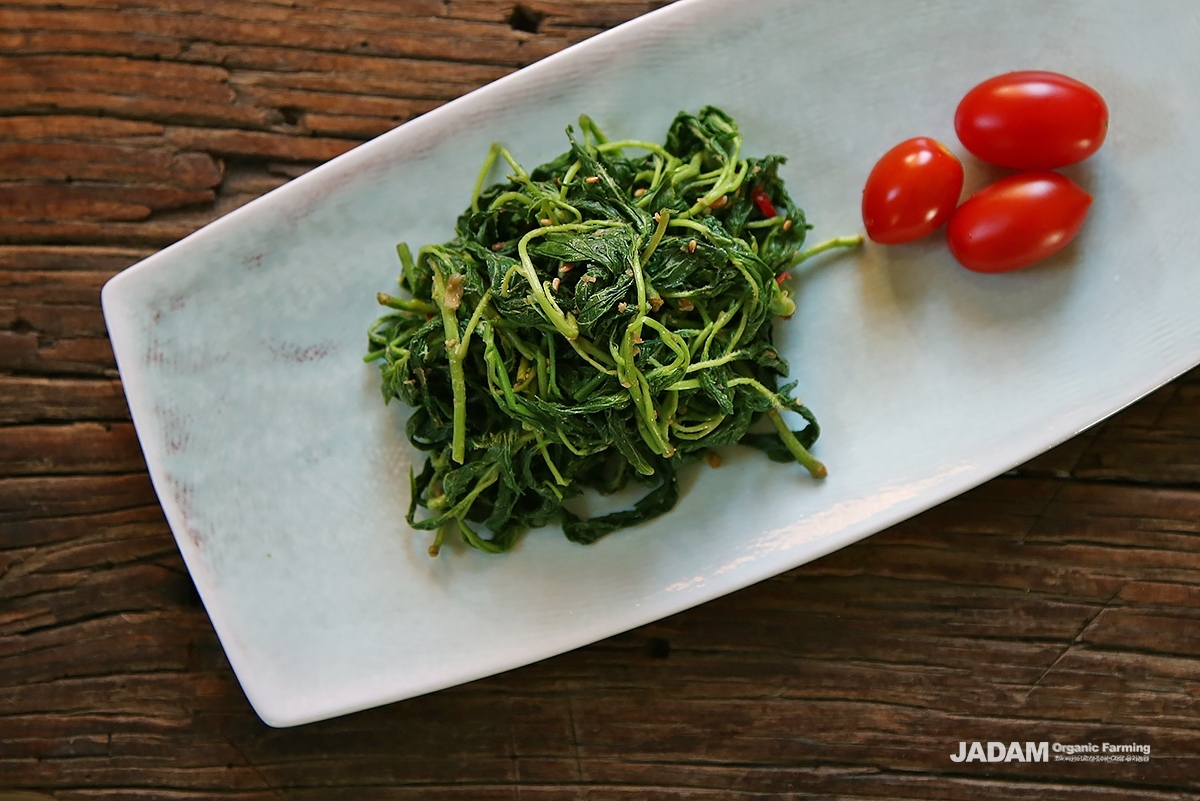 © 2018 JADAM All Rights Reserved
The property of this fruit is cold. It reduces the heat from body moistened the throat and enhance the urination. According to ancient Asian medicine it is used to be a treatment for polyuria , jaundice, gonorrhea, hemorrhoid and edema. Recommended consumption amount is about 30 to 60 grams once a day. Branches and fluid is also effective on edema and kidney related diseases. It is also well known for treating gonorrhea.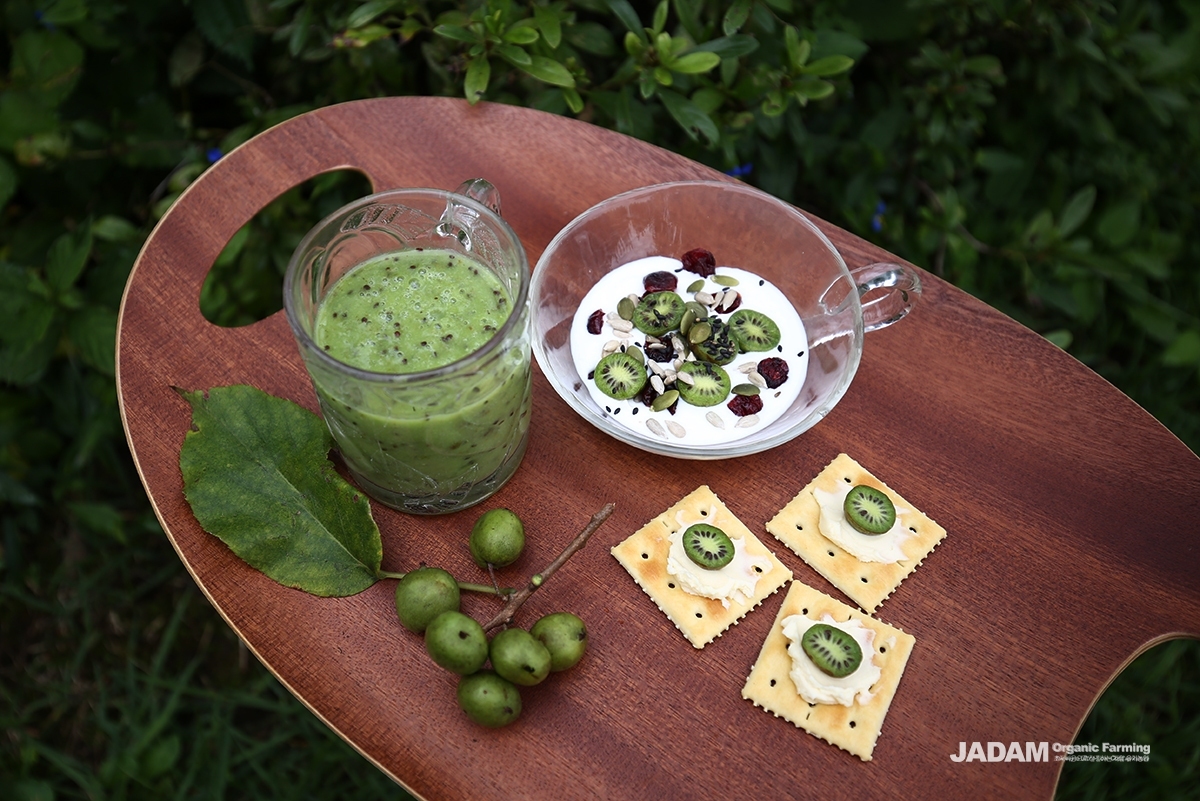 © 2018 JADAM All Rights Reserved
The property of root is cool and contains bit of toxic. Taste is slightly sweet. In between spring to autumn you can dry the roots for consumption. It reduces the heat, improves blood circulation and enhances all the other effects mention above.
© 2018 JADAM All Rights Reserved
The reproduction can be done by planting the branch or bury it.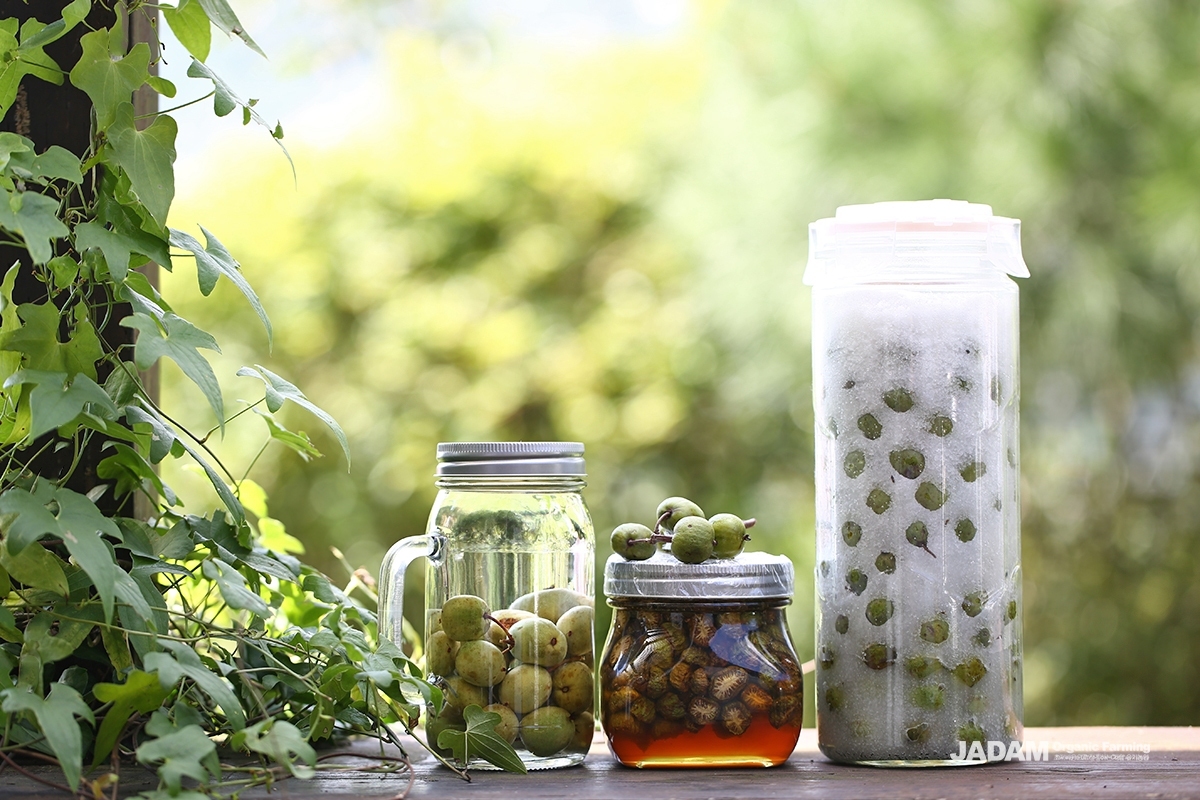 © 2018 JADAM All Rights Reserved
How to enjoy Darae
You can Drink the fluid from its branch
Make vegetable side dish or salad with smaller branch
Fruit can be used as juice and sauce or jam
Make an enzyme out of it by adding sugar

Translated by Sungwoo Cho
Other articles by Geol YooInterviewed on : 2018.11.05 14:25
<© 2018 Jadam All Rights Reserved>