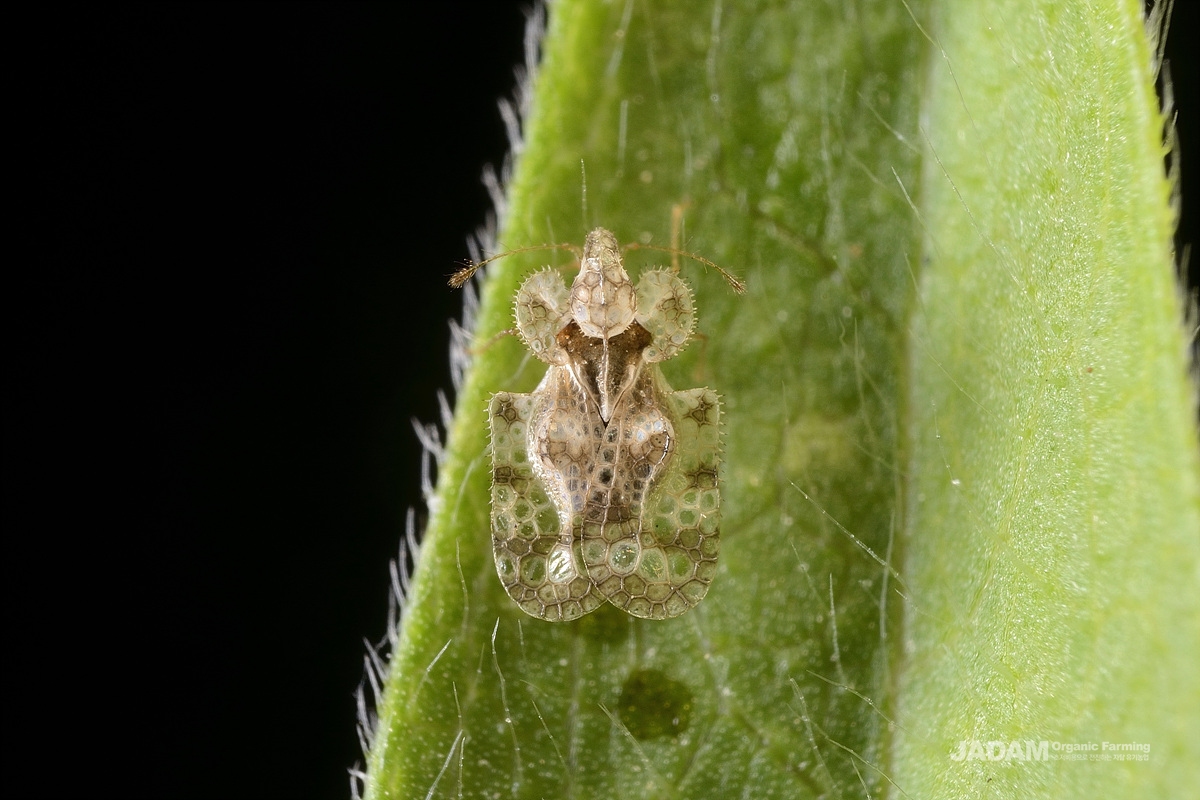 ⓒ 2018 JADAM All Right Reserved
Chrysanthemum lace bug adult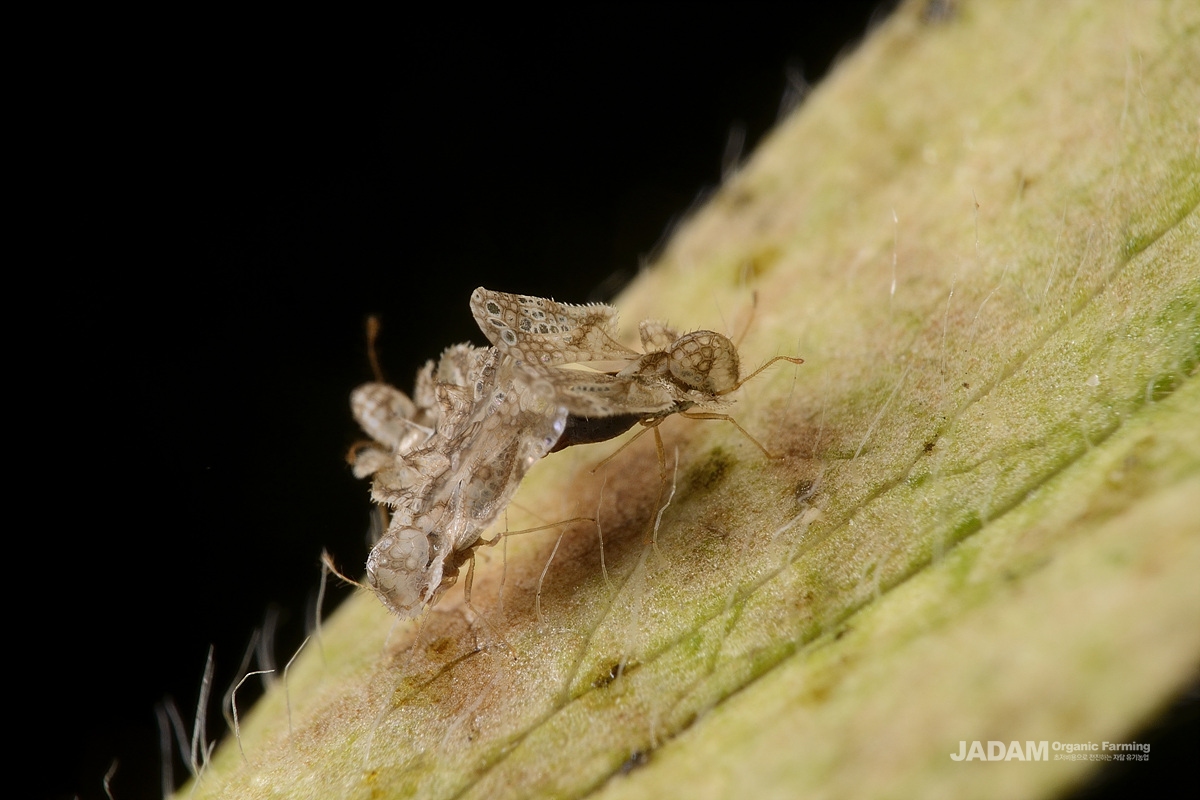 ⓒ 2018 JADAM All Right Reserved
Chrysanthemum lace bug mating
Chrysanthemum lace bug (Corythucha marmorata (Uhler))
Hemiptera, lace bug
О Scientific name:
Corythucha marmorata
(Uhler)
О English name: Chrysanthemum lace bug
О Size: the body length is 2.77~3.28 mm, & the width is 1.73-2.06 mm
О Host: sunflowers, Canadian Horseweed, frost aster, mugwort, pine-woods coneflower, Compositae, Labiatae, Solanaceae, Liliaceae, the pulse family and more.
О Distribution : Korea, Japan, U.S. and more.
Chrysanthemum lace bug was found from Pohwang, Gyeoungnbuk in 2011 and Changwon, Geyoungnam in 2012. This introduced species was registered as new kind in Korea. This is originally from North America. The body color of the lace bug is black, its wings are ivory white membranous and have light brown patterns on it. Soft hairs are covered its body. Its legs and feelers are light browns. It has 4 joints and the length of it is about half a body long. The edge of its feeler is round and covered with soft hairs. The mouth of the lace bug is long and the edge of it is like a needle that can help them to suck the juice of leaf. The front chest of the lace bug is a cone shape and if you see its sides of the body, it is the half wide circle that it covers its head. Its mesoscutum is an inverted triangle. It's behind chest is flat and long that covers its belly.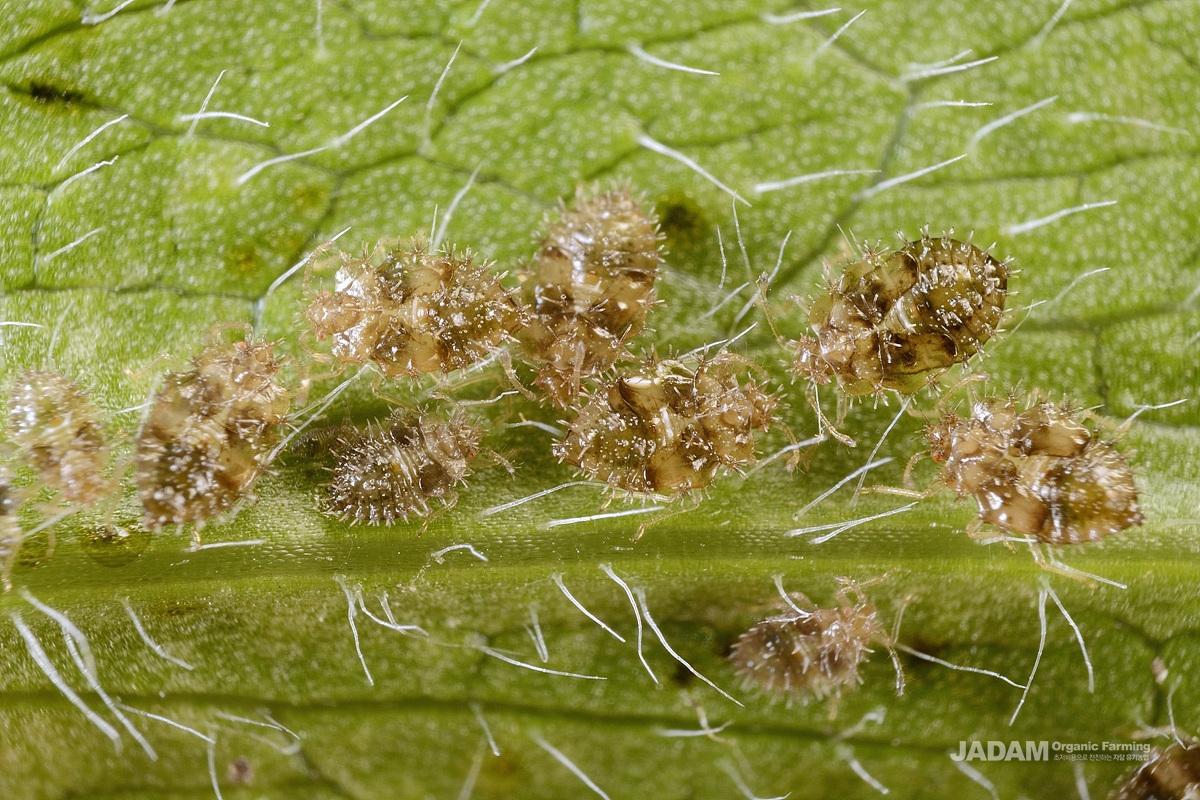 ⓒ 2018 JADAM All Right Reserved
middle and late-instar of chrysanthemum lace bug
The body length of the late-instar nymph is 2.3 mm. Its color of the body is yellow but it slowly becomes darker. Its body is covered with hair. Its compound eyes are red. The sides of its chest is big and round. Its abdomen is wide and convex. At the edge, there is a long prickle.
Female and male chrysanthemum lace bugs look similar but the edge of female one's abdomen is round while male's one is prominent. Its genital is located on the edge of its abdomen. Corythucha ciliata looks so similar to this insect but you can distinguish with a semicircular brown pattern.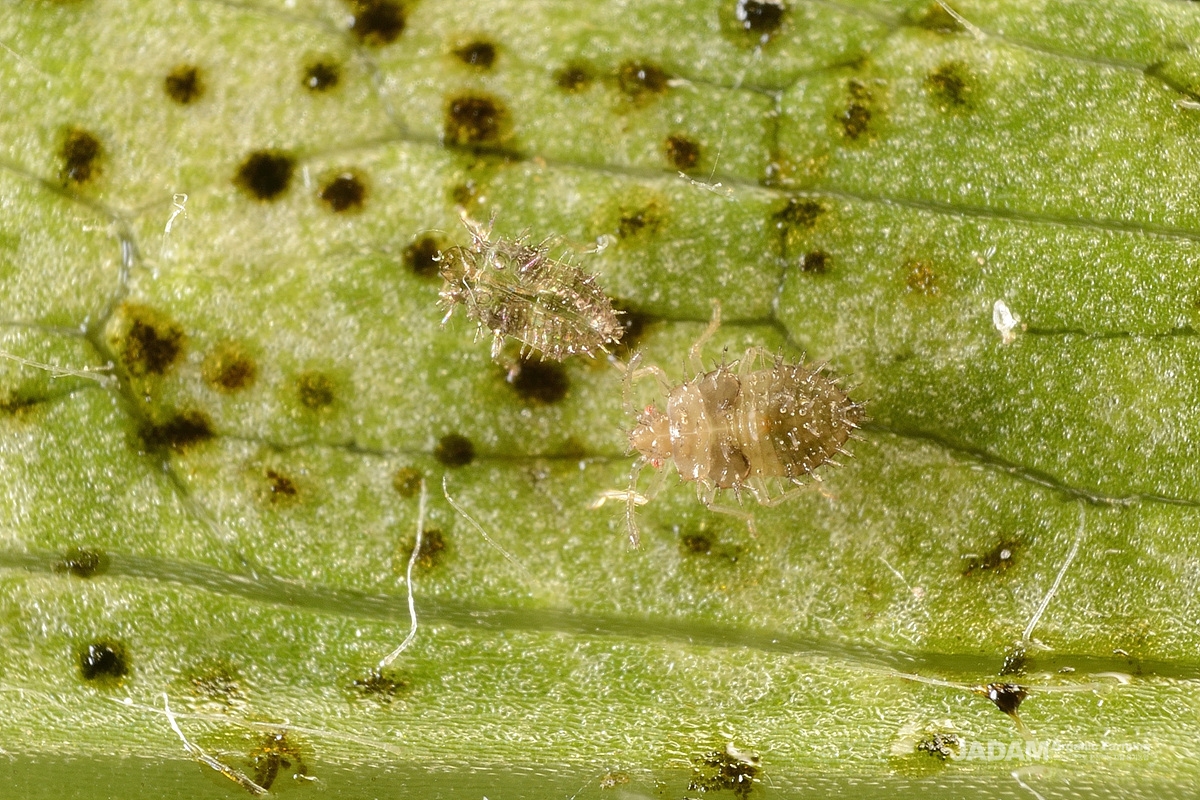 ⓒ 2018 JADAM All Right Reserved
early-instar of chrysanthemum lace bug
Its adult and young nymph suck juice near the root. It also sucks juice behind a leaf by the following midrib. The area where it sucked turns off-white. Moreover, it leaves sticky black excreta on the leaf that it close leaf stoma. So, it causes sooty mold and destroys leaf tissue.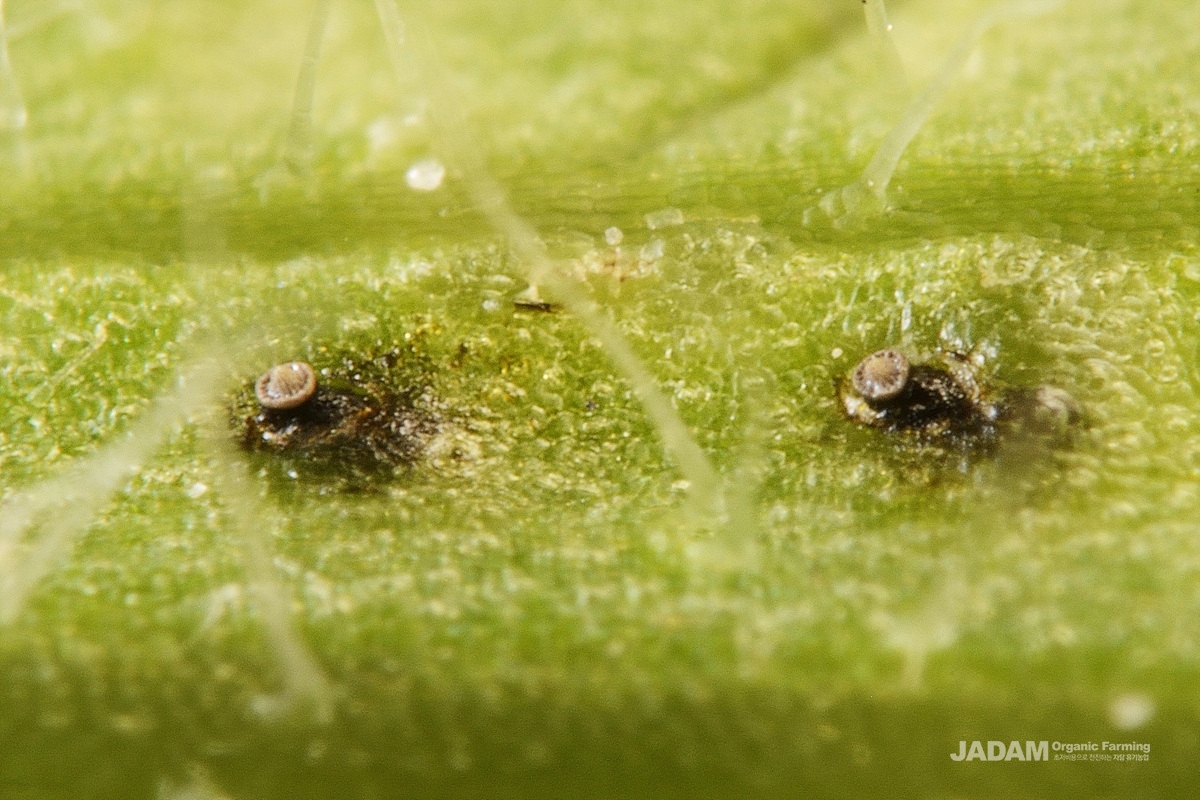 ⓒ 2018 JADAM All Right Reserved
Chrysanthemum lace bug eggs (spawning)
Its adult spawns 15 to 30 eggs on the behind of a leaf. Its egg is less than 1 mm, light brown
and long egg-shaped.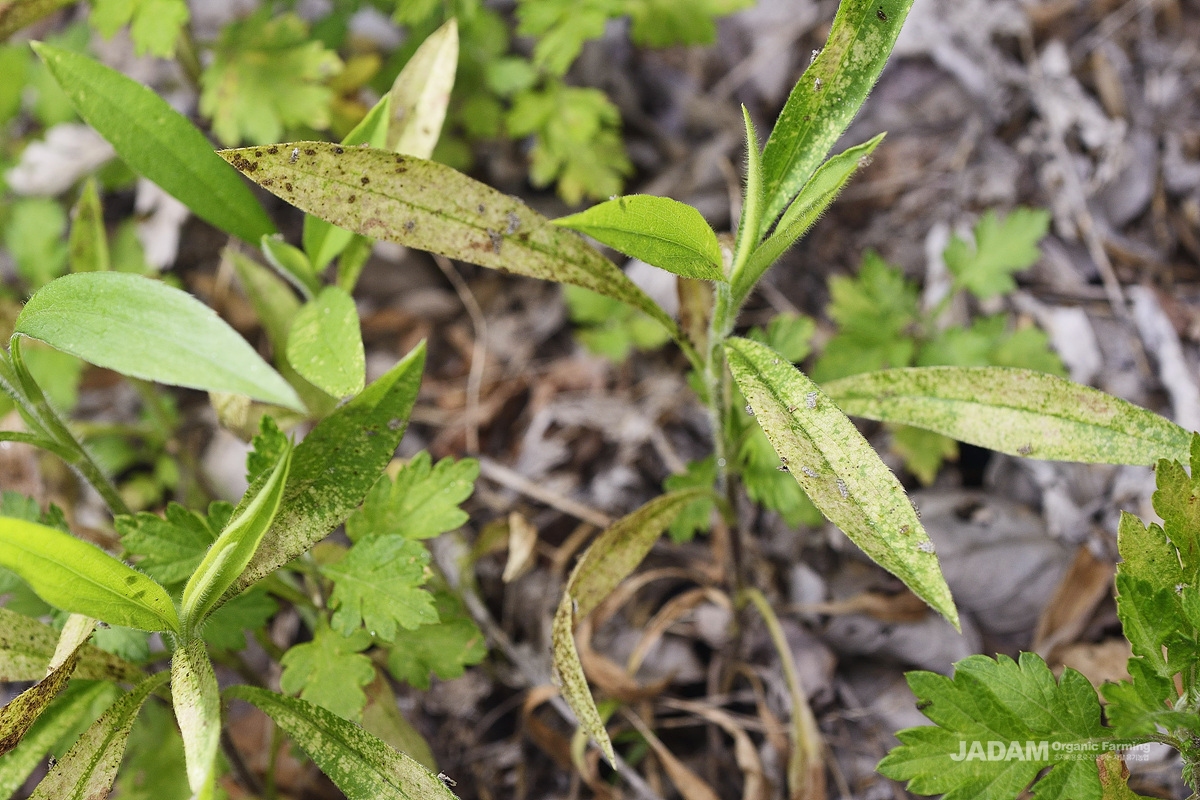 ⓒ 2018 JADAM All Right Reserved
The damage by chrysanthemum lace bug + the second attack will result sooty mold.
Its adult and nymph stay behind the leaf in a group. The adults appear from early June to late October and nymph appears from early July. The period of July to August is the peak of occurrence.
[Data Source: Geographical Distribution and Host plants of Corythucha marmorata (Uhler) (Hemiptera: Tingidae) in Korea(Dong Eon Kim, Jihyon Kim)]



Translated by Sunyoung Cho
Other articles by Deogkee ParkInterviewed on : 2018.05.30 14:21
<© 2018 Jadam All Rights Reserved>
#hemiptera
#lace bug
#Corythucha
#foreign pest
#chrysanthemum family
#new type
#sporadic insect